The First YAI NORTH EAST REGATTA -2023 was conducted by the Umiam Sailing Club, Shillong in association with 420 class association of India under the aegis of Yachting Association of India from 28 Apr to 02 May 2023
Alekhya Coondoo (Helm) a student of HPS Ramanthapur & her partner Pilli Akhil (Crew) both from Telangana representing the Secunderabad Sailing Club stood first in the 420 Class (mixed) category in both the Youth (under 19) and Open. It was contested by the top sailors in the country. The Gold Medal carried a cash prize of Rupees One Lakh and an opportunity to be sponsored for the "ASAF Enoshima Olympic Week" in Japan.
The team received their Medals from the Skipper of INSV Tarini Lt Commander Vartika Joshi who completed a historic, record-setting circumnavigation of the globe by sea.
Chief Minister Shri Conrad Sangma attended the event and interacted with the Sailors motivating and encouraging them to excel in Sports.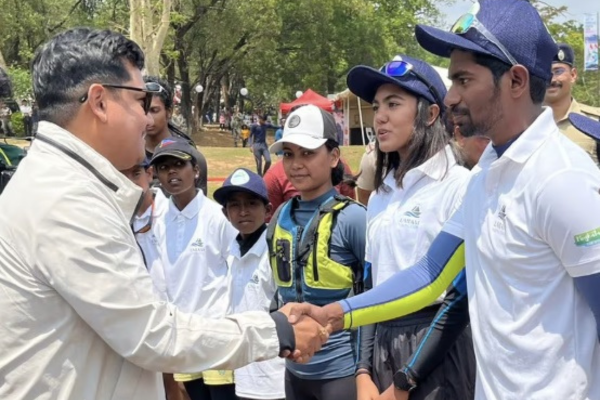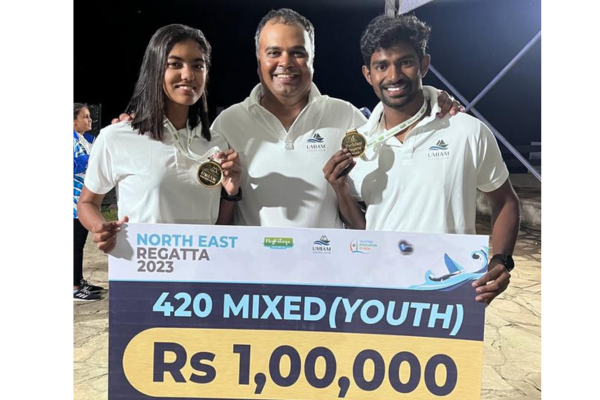 Devashvith: HPS's Shining Cricket Star
Hyderabad: At the tender age of Grade 8, Allam Devashvith of The Hyderabad Public School, Ramanthapur is not just another school-going kid; he's fast becoming a force to be reckoned with in the cricketing world. Representing the U-14 Telangana Cricket Team, Devashvith is a rising cricket sensation and his laurels are a testament to his talent.
The charm of the "Gentleman's game" has always captivated Devashvith. It was evident from the early days of his passion for cricket that he was destined for bigger platforms. His dedication and skill didn't go unnoticed as he was chosen to be a 'Ball Boy' for the high-voltage 2019 IPL match between Sunrisers Hyderabad and Chennai Super Kings. Further emphasizing his prominence in the cricket community, he was again chosen for the same role in the thrilling India Vs New Zealand match in 2023 at the Uppal Stadium.
Devashvith's journey is not just about individual accolades. As a team player, he was pivotal in his squad's outstanding performance that saw them clinch the second position in the South Zone Krishnamurthy Trophy U-14 Match. This prestigious tournament, organized in Kerala from January 23rd to February 11th, saw teams from all over the South Zone vying for the top spot.
The Hyderabad Public School is no stranger to nurturing talent, with its expansive grounds and state-of-the-art cricket turf serving as the cradle for many budding sports enthusiasts. "Our facilities are designed to provide students with the best possible training ground, helping them hone their skills and reach their full potential," stated Dr. Narasimha Reddy, the Principal. He didn't miss praising Devashvith's achievements, "We're extremely proud of Devashvith. His accomplishments are just the beginning, and we're certain that the future holds even greater success for him."
With such commendable achievements at a young age, Allam Devashvith is undoubtedly a name to watch out for in the world of cricket .