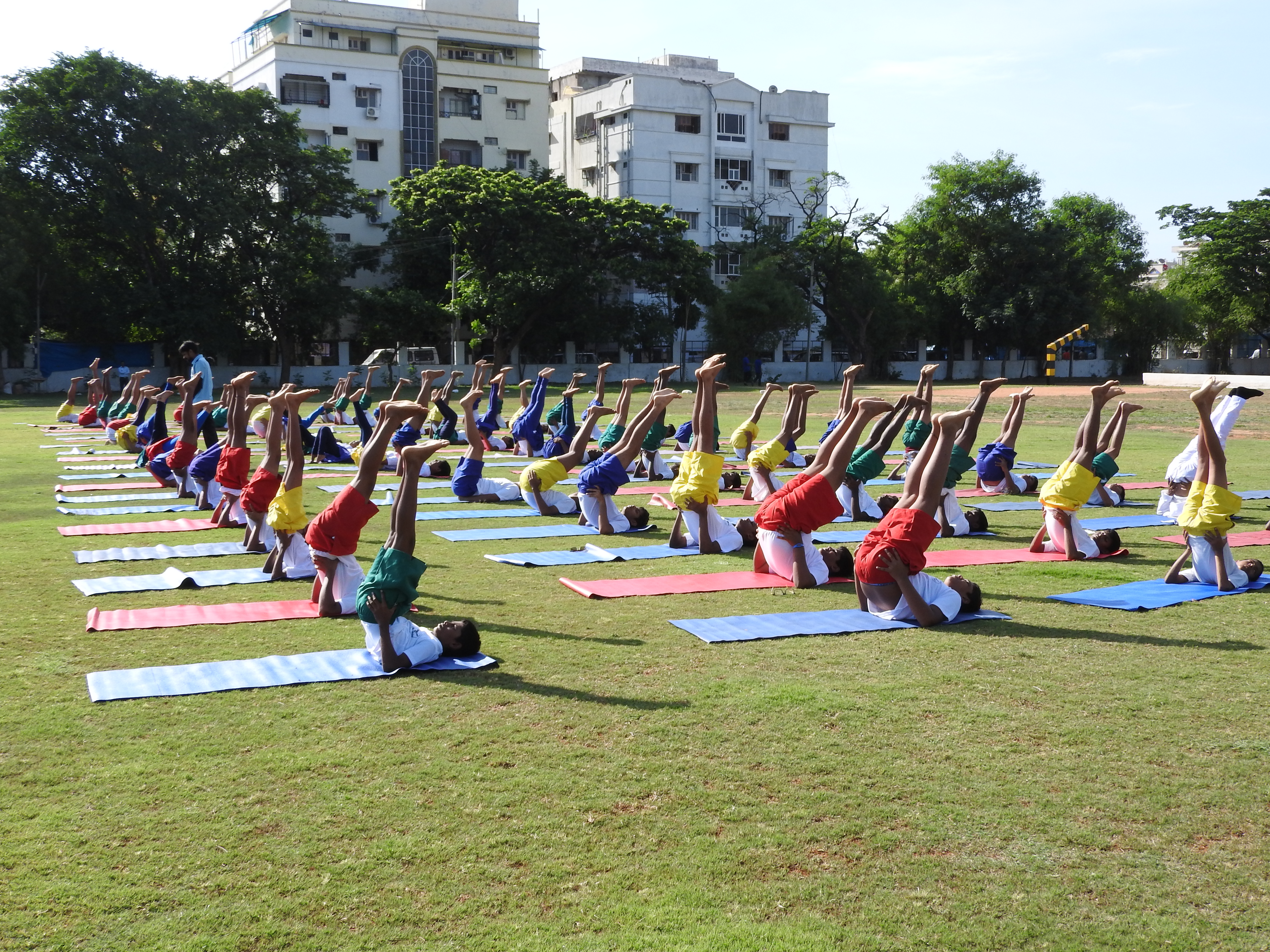 Children, in today's world are under a lot of pressure to cope with incessant lessons and competitive sports, that are sometimes stressful influence. HPSR has incorporated into its curriculum, the teaching of yoga that helps children learn techniques of self-health and relaxation at an early age. During yoga, children exercise play and connect deeply with the inner self, recognizing their own sense of power, as it encourages self-esteem while fostering cooperation and compassion. It enhances their flexibility, strength, coordination, and body awareness. In addition, their concentration and sense of calmness improve. Yoga impacts children to be creative, to learn discipline, and be responsible.
INTERNATIONAL YOGA DAY 2022
"Add years to your life and life to your years just by embracing Yoga in your life"
21st June is celebrated as International Yoga day since 2015. It is a bid to spread awareness about the importance and holistic health benefits of yoga. The theme for this year is "Yoga for humanity". Yoga emphasizes the value of mindfulness, moderation and perseverance. When applied to communities and societies , yoga offers a path of sustainable living. The Hyderabad Public School, Ramanthapur held this year's International Yoga Day celebration in the assembly hall. 100 NCC cadets of Navy and Airforce took part in the celebration. The event was conducted by Raaga Pranavi, followed by Sri Reddy, who enlightened the cadets on the importance and advantages of practicing yoga regularly. A total of 40 Army wing cadets attended the session at Kendriya Vidyalaya-1 (Uppal), where Army cadets from 5 different schools were present for the celebrations. Various asanas were followed by omkar chanting. Warm up exercises, sitting and standing asanas were also performed at both venues. Yoga day was celebrated with great enthusiasm leaving us all with a desire to explore our spiritual side. It took us to the highly rewarding world of yoga.
YOGA FOR WELLNESS

A healthy Outside starts from the Inside- Robert Urich
Yoga is a mirror to look at ourselves from within.
Yoga during the current pandemic has worked wonders in assuaging fears, de- stressing and calming the mind. It is being embraced as a regular practice in day-to- day lives.
The 7th International Day of Yoga was celebrated and practiced by NCC students performing Asanas both indoors and outdoors. Their love for yoga and wellness was clearly exhibited with utmost diligence. NCC students of Grade 9 performed online the various forms of 'Yoga Asanas' from 07:00 to 07:45am on 21st June,2021 to commemorate this day. Many students have started embracing yoga as a way to heal themselves mentally and physically.
The NCC-Army wing witnessed 35 cadets participating online with their family members. Two days of practice from 5-6pm was conducted by Mr.Pramod. One Telangana unit has 3 schools,hence Kendriya Vidyalaya-1 & 2, Uppal and The Hyderabad Public School Ramanthapur cadets togetherjoined in the celebration of International Yoga Day.
Around 35 cadets of the NCC Navy wing took part and demonstrated Surya namaskar, Pranayams and meditations. Ayushman Bharat's video was practiced and followed under the guidance of Mr.U Ramakrishna .
As many as 48 NCC AirForce wing cadets attended the online quiz and took the pledge related to yoga which was conducted by the Ministry of Ayush and was monitored by Mr. Naveen. Yoga asanas such as Vrikshasana, Bhujangasana, Ustrasana and Vajrasana were performed at their homes.
Students devoted this day to focus on the invaluable benefits of this holistic wellness – system which was a part of Indian tradition and has now spread to the rest of the world.