"CLASSROOMS ARE AN ENTRANCE INTO THE WORLD & NOT AN ESCAPE FROM IT."
Studies and researches have proved that well ventilated and spacious classrooms enhance learning outcomes. Our classrooms comfortably accommodate around 40 students. This is the place where teachers other than imparting knowledge also teach good manners, love, generosity ,some of which will surely drift from the classrooms to the home, and eventually the world.
LEARNING IS ACTIVE: "TELL ME, I FORGET, SHOW ME , I REMEMBER, INVOLVE ME, I UNDERSTAND." THUS GOES THE CHINESE PROVERB.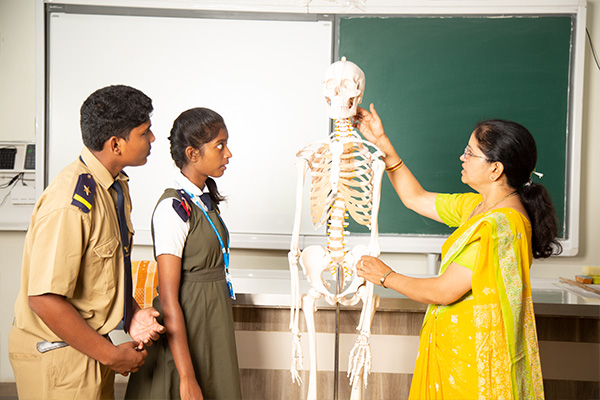 The marvels of science can be experienced practically by the students in state-of-the-art laboratories. The School is equipped with three labs for the Science subjects i.e., Physics, Chemistry, and Biology. Be it the microscopic analysis of unicellular or multicellular organisms, the study of the electromagnetic spectrum or the observations of the chemical reactions, our science laboratories with a capacity for 40 students to work concurrently, provide the space, the equipment and the safety standards that allow high-quality, practical work in science learning to happen very effectively.
Physics Lab has a dark area to conduct optical experiments. Biology Lab has an overhead projector. The students are involved in handling lab equipment and performing experiments that help them to learn lab techniques and reinforce textbook concepts.
"It is not that we use technology, we live technology."
Our campus is equipped with two computer labs with an adequate number of PCs with high-speed internet for students use, as part of their curriculum. The labs are equipped with advanced infrastructure in terms of hardware and software. The lab also facilitates senior students to acquire programming skills. Needless to say, the systems are upgraded from time to time.
A HIGH QUALITY SCHOOL ASSEMBLY IS ONE OF THE MOST IMPORTANT ASPECTS OF A SCHOOL'S CURRICULUM NURTURING ETHOS.
We begin our day with the morning assembly prayers in this large hall which has an imposing painting of Buddha on its rear wall and with the stage at the entrance where all the school events are held.
"THERE IS MORE TREASURE IN BOOKS THAN ALL THE PIRATES LOOT ON THE TREASURE ISLAND." WALT DISNEY.
Phileas Fogg went around the world in 80 days.But everyone doesn't have the privilege to travel extensively,so what our young students do is arm chair travelling and our library is the best place to embark on this journey.
An informed mind is a valuable asset to society. The school actively encourages students to read books and library hours are part of the curriculum. We have a spacious library with a treasure trove of thousands of books& Digital media on various subjects/topics. The school subscribes to a large number of magazines and journals which are available to students to ensure that they are up to date on current affairs and developments in the field of science and technology.
"THE FONDEST MEMORIES ARE MADE WHEN GATHERED AROUND A TABLE."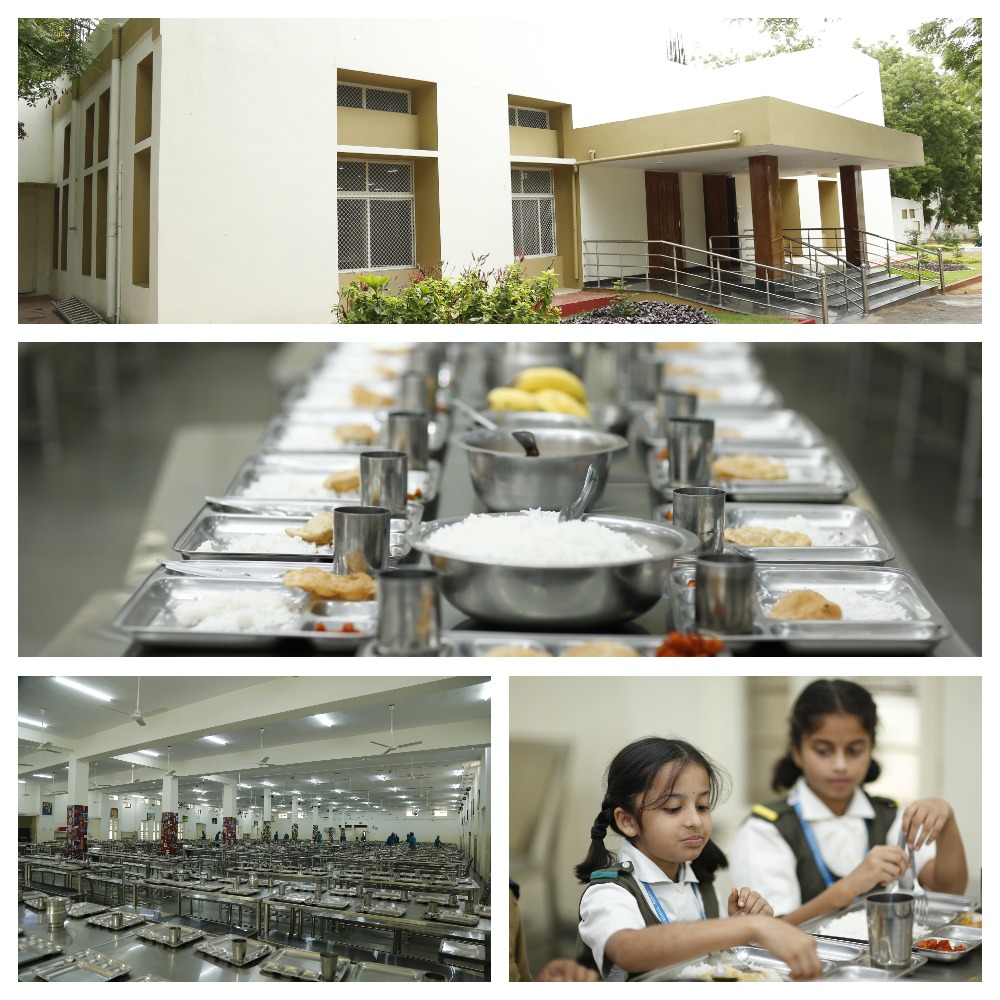 Famous for churning out lip-smacking curry puffs, sumptuous sambar, the veg and chicken biryani, the school dining hall provides nourishing, healthy, hygienic, and balanced meals to the students. It can seat 800 students for a sit-down meal. The food is served as per the menu approved by the National Institute of Nutrition, Hyderabad. Both vegetarian and non-vegetarian meals are served. We are proud to say that we bake our own bakery items. Our Roti maker machine is our latest addition.
Healthy eating is all about cooking food the healthy way. We like the children to get the taste and flavour of home madefood. So, the quintessential Grandma's kitchen is updated with the latest gadgets & techniques of cooking. We have the latest pulvarisers for grinding our dals , ovens for baking our own HPS bread, roti maker machine, vertical fridge for curdling & to reap all health benefits rice is steam cooked. We make our own marmalades, pickles in neat and hygienic conditions.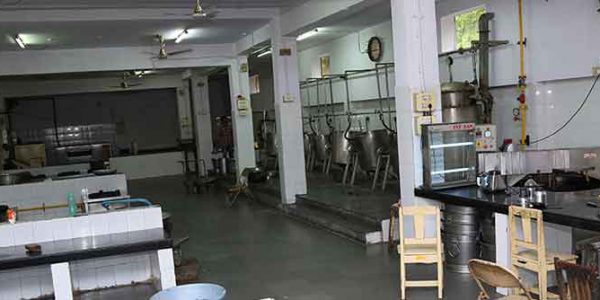 At HPS Ramanthapur, we focus on the physical fitness of our students as well as their skills, proficiency, and levels of competency in games and sports.  We encourage our students to remain physically fit. They are assessed for their physical fitness components like speed, strength, and endurance. HPSR has made sports and games an integral part of the school curriculum, making sports and games mandatory for every student every day. The Boarders get an energetic start to their day with a vigorous Physical Training Programme.
Physical education activities are an essential part of holistic schooling. Physical education as an education tool can contribute significantly to the development and learning progress of children. It acts as a balance between a student's body and mind.
Sportsmanship is an attitude that strives for fair play, courtesy toward teammates and opponents, ethical behavior, integrity, and grace. Playing outdoor games helps the child to socialize and learn skills such as obeying the rules and regulations, sympathy, empathy, and also develop leadership qualities. It also helps the child in the regular exercise of the body, which in turn helps in keeping the body fit and healthy.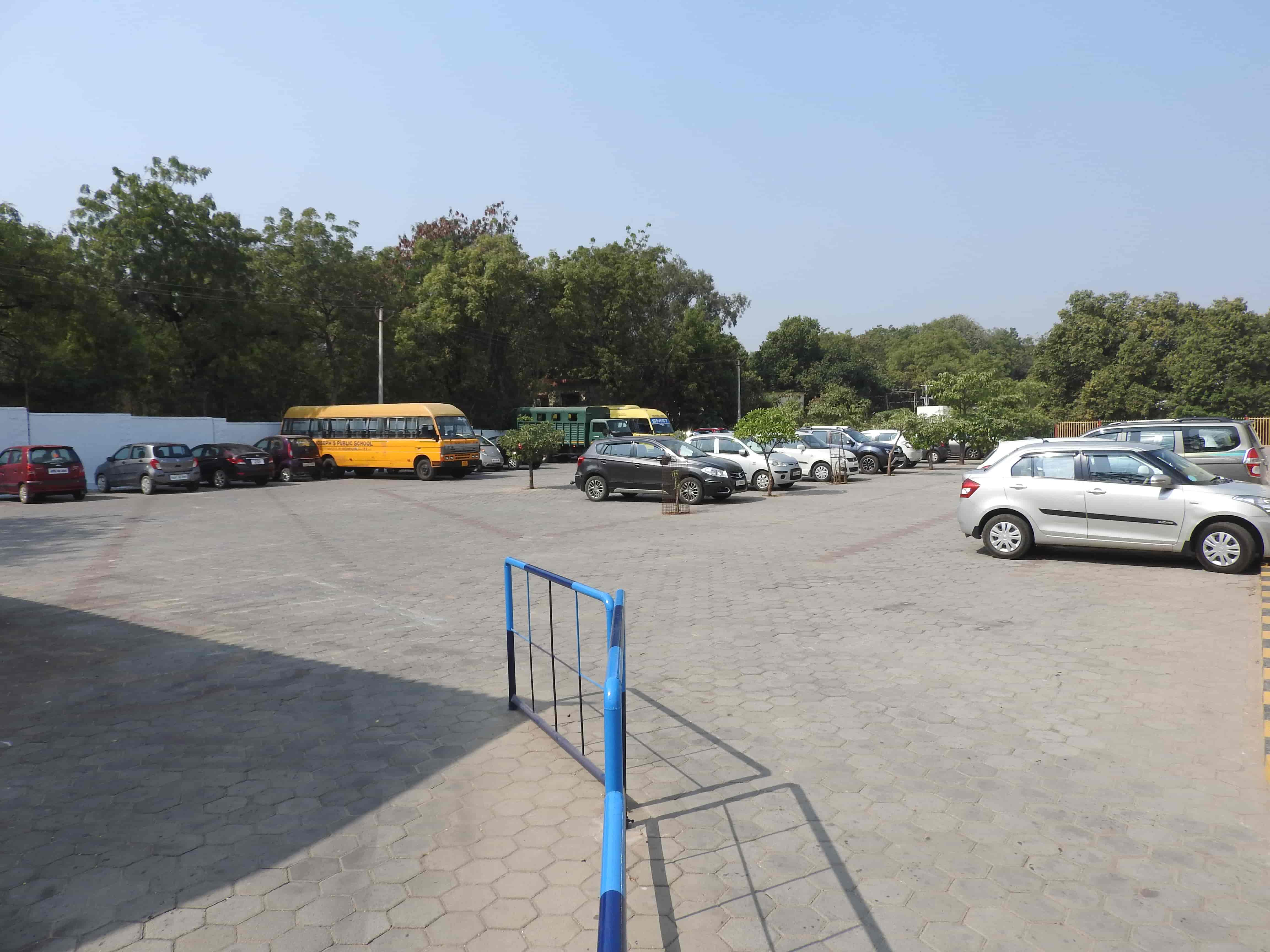 We have huge parking space behind the Senior School Auditorium which is adequate parking facility for the students. It has entry and exit points for the smooth flow of the traffic.