Career Counselling Workshop: Charting the Path to the Future
"The Future depends on what you do today."
-Mahatma Gandhi
Charting a career path post class 10 can be an overwhelming task for many students. Recognizing this challenge, our school hosted a career counselling workshop in collaboration with PAGE Academy, Himayatnagar was held on 12th October,2023.
Led by a trio of experts, Mr. Siva Kaladhar Kolachina, a renowned soft skills trainer and career counsellor; Ms. Anupama, a seasoned facilitator; and Mr. Vinay, another adept facilitator, the workshop delved deep into the myriad career opportunities available to students, spanning across streams such as MPC, BiPC, and Arts.
Beyond mere guidance, the workshop, as part of PAGE Academy's Corporate Social Responsibility, also facilitated an RIASEC test for students. This test, combined with free psychometric assessments, promises to shed light on individual aptitudes, interests, and potentials, thus enabling students to make informed decisions about their futures.
It's imperative for students to comprehend that they are the architects of their own career trajectories. They must harness their potential, seize opportunities, and passionately chase their dreams. An alternative perspective, like the one provided by the workshop, broadens their horizons, introducing them to career avenues they might not have considered.
In essence, this workshop was more than just a guiding light; it was an enabler, ensuring that our students set forth with confidence and clarity towards a brighter tomorrow.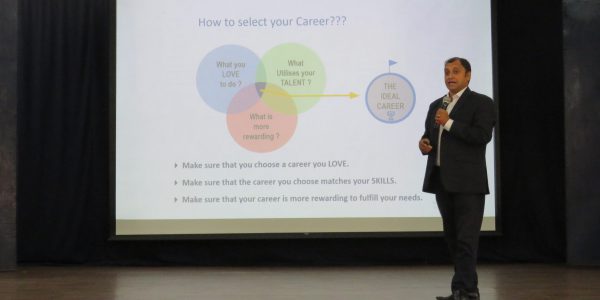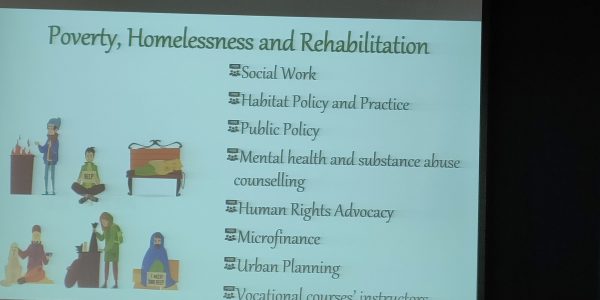 TREK TO PANDAV PATHAR (12500ft), KULLU – MANALI
LOOK DEEP INTO NATURE AND YOU WILL UNDERSTAND EVERYTHING BETTER – ALBERT EINSTEIN
The Himalayan Adventure Trek 2023, was an opportunity to escape from routine life and embrace nature amidst dreamy mountains and aromatic lands. It was a journey of joy, bliss, and discovery. It was a voyage that no one will ever forget. Indeed, it was a memorable adventure.
We flew to Delhi on 9th May and from there we travelled to Himachal Pradesh by road.We sang songs while the drivers skillfully maneourved on the dangerous mountainous climb. We were 37 students altogether escorted by Our Vice Principal Mrs. Kiran Panjwani, our Physical Education , Head Of THe Department Mr. Nagarjuna, Mr. Naveen and Mrs. Sheekha from the Primary Wing.
On day 2, we reached the base camp at Kulu Manali (height – 5500ft above the sea level). The entire place was so picturesque and serene. We played energizing games. There was also rope course activities like wall climbing, flying fox (zip lining), net raffling, etc. the food at the camp is a must mention, we had authentic North Indian cuisine, it was extremely delicious and mouth watering and perfect for the cold weather.
Day 3 began as we packed our rucksacks, got into our trekking shoes and set out for a 45-minute Jeep ride to the trekking point. It was a great fun drive along the curvy roads – we sang together and played music. Those dense woods were pretty adventurous, and every height we reached had breathtaking views. During breaks, we clicked some memorable pictures. It' was wonderful to capture these moments through photographs, A team of three guides guided us along the trek from the base camp. We were elated when we finally reached camp 1 (7500 ft above the sea level). There, we met local residents who dressed us up in traditional Manali clothing so that we could take pictures. During the evenings, we hiked to nearby lands for firewood, walked through meadows, and set up our campfire by the valley side. We spent the night eating a starlit dinner, sitting on wood logs.
After a chilly night and as the dawn broke, we set out for Camp 3 directly instead of Camp 2 as the route there was covered in snow and was not trek friendly. The journey to Camp 3 was challenging and thrilling, considering the uphill walk on the steep terrain. As we continued our trek, the elevation increased, providing us with even more stunning views of the Himalayas. The magical landscapes and fresh mountain air made the experience truly delightful.
Upon reaching Camp 3,(9550 ft above the sea level) we felt a sense of accomplishment and excitement. As the altitude increased, the forest line and the terrain changed, resulting in harsher weather conditions. It's incredible how nature transforms as you ascend the mountains. We felt a deep connection with the mountain and the environment around us as we gathered around the campfire, playing antakshari while enjoying the hot soup. The fourth night passed on as we stayed up sharing stories in our tents; however, the morning of the fifth day brought dreaded excitement. We had to prepare for our final ascent.
The toughest part was yet to come as we had to make our way to camp 2 (12,500 ft) from camp 3. As the tents were buried under the snow in camp 2, it was decided that we will spend some time playing with snow and return to camp 3 the same day. It was an extremely steep climb , but our sheer will and physical endurance helped us successfully reach camp 2. While we were on our way, we drenched in snowfall(for most of us, it was our first rendezvous with snow). Snow sparkled in the sun like white glitter. When we arrived, the view was astonishing and we felt like we were on top of the world. It was hard for us to believe that we were totally surrounded by snow. We were tired but relieved to make it to Camp 2 safe and sound. During our time at the summit (pandav pathar), we enjoyed lunch, proudly posed for a pic holding our school flag high, and played in the snow for an hour making snowmen. Before we descended to Camp 3, we enjoyed the view and the feeling of pride at the summit. We hiked carefully and returned safely. We were so relieved to finally be back in the comfort of our camp. We experienced a magical day and were looking forward to the downhill trek back to the base camp. Amidst the jingle of the bells tied around the mules' necks we went to bed that night feeling exhausted but proud of what we had accomplished. There, surrounded by the Himalayas, without any gadgets and social media, we engaged in making real connections with each other and also the nature.
All good things come to an end, so did our trip.It was 14th May. A week flew in a jiffy. We packed our rucksacks the next morning and headed back downhill to the base camp. We were brimming with joy, looking forward to an outing in the town of Manali. We arrived in town and enjoyed shopping in the market, taking in the sights and sounds of the bustling streets. We boarded the bus to Delhi, happy and content with our journey. We sneak peeked through the window, taking in the beautiful scenery and reflecting on the amazing adventure we had just completed. We came back happier than ever, with a renewed spirit, willing to enjoy and experience everything that time had to offer.We bid goodbye to the mighty mountains, knowing we would return someday. We smiled to ourselves, grateful for the memorable experience we had. As we drove away, we vowed to cherish the memories of the trip forever. The trip was one that we would never forget and it left us with a newfound appreciation for nature. We look forward to our next adventure, wherever it would take us. We are ever grateful to our school management to organise such challenging trips helping the eaglets to soar to great heights.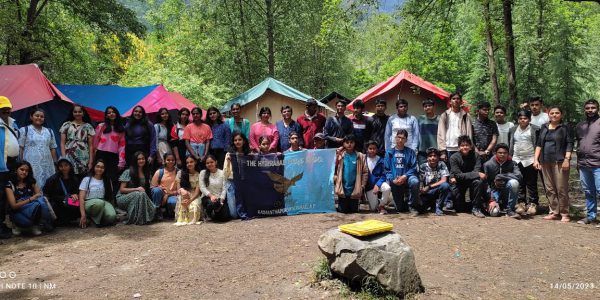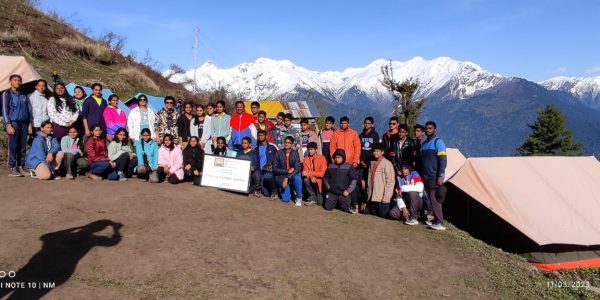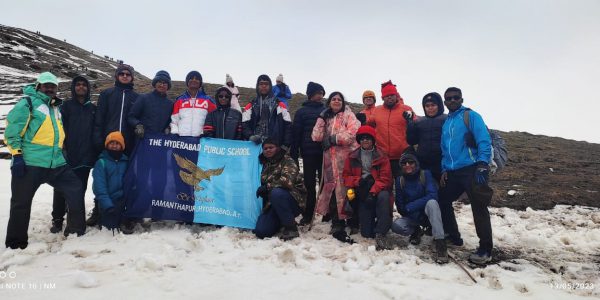 On 17th / 18th May, 2022 -A visit to CCMB (Centre for Cellular & Molecular Biology).
The program aimed at giving us first- hand research experience, with the scientists Dr. B Kiran Kumar and his team members Mr. Yash and Mr. Ghalib, understanding a specialization – the mechanism of neural injury and its repair.
The project overview of in vivo and in vitro research they took up was elucidated. We were shown vitro labs where the tests are done, and the equipment used like the PCR machines, centrifugate.
Along with the treatment of an injury in the cornea of a rabbit, we were acquainted with aspects like ECM, OCT, hydrogel, the effect of hspb5 protein on neural differentiation, cell culture, neural organoid, stains, anti-viral testing for various drugs, the pictures of the examined cells under a microscope, RNA isolation, SARS- CoV-2, PCR and RT- PCR tests, the antibodies and antigens, vaccines, HEPA filters, VTM's, etc.
We had an insight into the labs, where the cells are preserved and the devices used, the HeLa cells which were the first human cell line, plasma which contains nutrients and proteins required for the cells in the incubators. We worked on an experiment of RNA isolation of African green monkey which was the best part of the program.
Not to mention safety equipment was provided before entering the labs.
We sincerely appreciate and thank Dr B. Kiran Kumar, his team members Dr. Yash and Dr Ghalib, and our Principal Dr. Narsimha Reddy for providing this opportunity.
T. Anushree
P. Varuni
CCMB-SHADOW A SCIENTIST
The lab studies gene mutations linked with microcephaly and neural cancers and how neural proteins play a major role in the growth of our brain. We saw how the brain organoids are grown using cell culture and learned about the different instruments used in the lab and culture room. We learnt about bacteria – how it is cultured and the breakdown of ASPM gene using enzymes.
All the experiments and research work were interesting and informative. It was a great experience.
I extend my thanks to the research scholars Ms. Aswathy and Dr. Pavithra L Chavali who has permitted us to spend an entire day in the lab.
T. Chinmayee
CCMB-SHADOW A SCIENTIST
As part of the 'shadow a scientist' program, I got a chance to visit various laboratories and learn from students and scientists working there. I chose to spend my day in the epigenetics laboratory of Dr Rakesh K Mishra, the former director of CCMB. However, I got to interact with Dr Reshmi and other doctoral students. I learnt of various procedures like ChiP (Chromatin Immunoprecipitation), Crispr cas(Clustered regularly interspaced short palindromic repeat), PCR (Polymerase chain reactions), Gel Electrophoresis and many more.
I got a chance to load some DNA samples into an agar gel and look up the atomic spectra of these DNA bands under UV light. It was really interesting to understand how DNA is being extracted from model animals and being processed and studied, how DNA replication is done and how its quantity is estimated from photographic results obtained from electrophoresis. I visited the drosophila lab (also called fly lab) where I learnt facts regarding fruit flies and how they are used for carrying out genetical studies, how these tiny organisms are stored, bred, fed and used for studies. I looked under the microscope to tell apart male and female.
The CCMB plant facility had genetically modified plants and I understood how these were different from our normal household plants and how these varieties could be used for real life applications.
The Zebra Fish facility had varied systems used to store and use these species of fish for various experiments. I was amused to know how crispr cas9 is used to modify the genes of these fish to obtain desired traits in them. I was told how the functions of non-coding genes are being found out by experimenting on these fish.
Dr Norma, an expert in neurological disorders explained interesting things about induced pluripotent stem cells and gene mutations induced in human beings without violating any ethical regulations to cure certain rare genetical disorders.
Having had a great learning time, I would like to thank CCMB and our Principal Sir for giving me an , opportunity to explore my interests and expand my knowledge.
Basanth Geereddy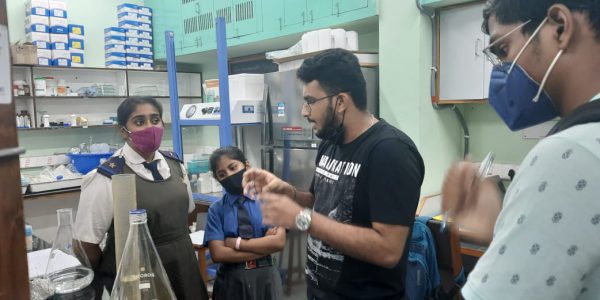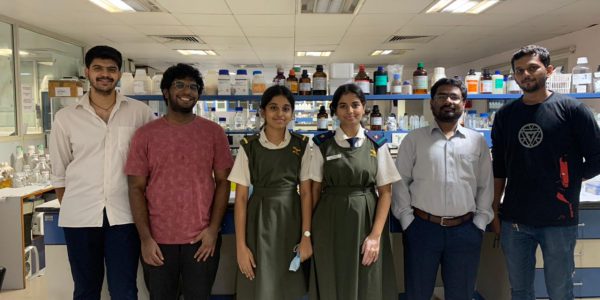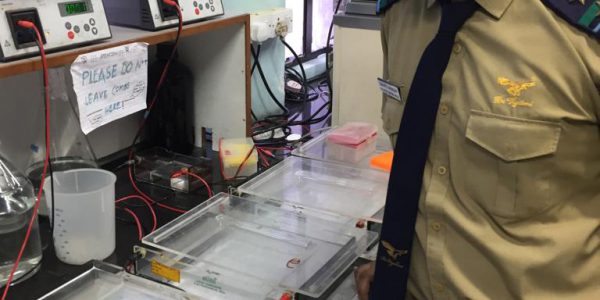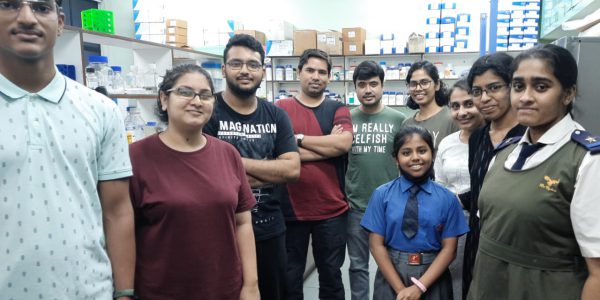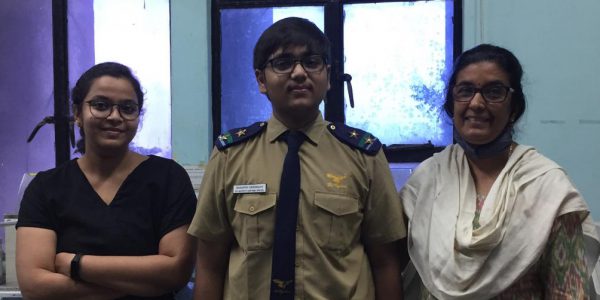 RCI (DRDO)- Educational Trip
On 21st December 2021, the students of class 10 went for an educational trip to DRDO RCI.
DRDO a humungous campus spread across an area of about 2700 acres with labs and testing centers. The entrance greets with a towering statue Dr.APJ Abdul Kalam – the missile man of India.
On display in the auditorium were various models of missiles and their components that were well–labeled. The students were exposed to a special class on seekers of the missiles, and that seekers are the 'EYE 'of a missile as they help in locating the target. Students learned about the types of seekers. It was an excellent opportunity to witness the models of missiles like Agni, Prithvi, Akash, Brahmos .A presentation on History and mission of DRDO – RCI was shown. It was a prestigious and privileged moment for all.
Students also viewed videos of missiles in operation, attacking various types of targets. The demonstrations were very informative and fascinating. A quiz was conducted to test what the students gathered in the visit. Finally, the efforts of officials at DRDO deserve appreciation for facilitating enthusiastic support .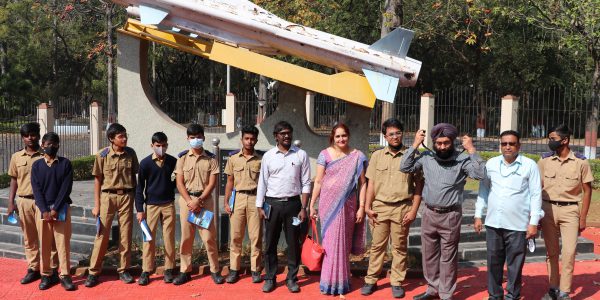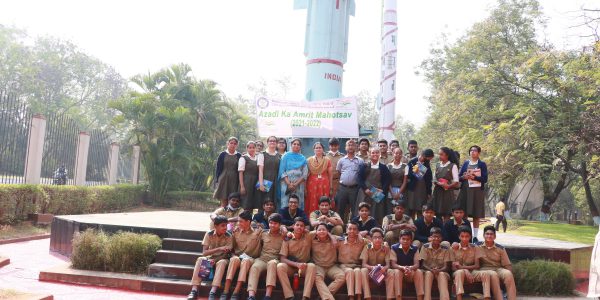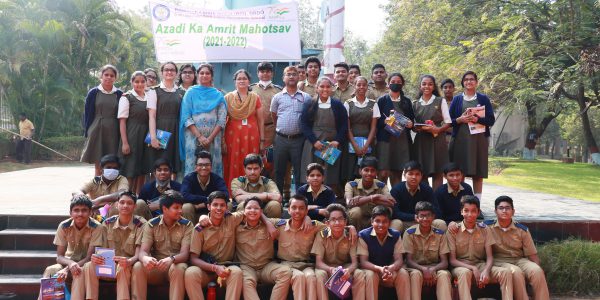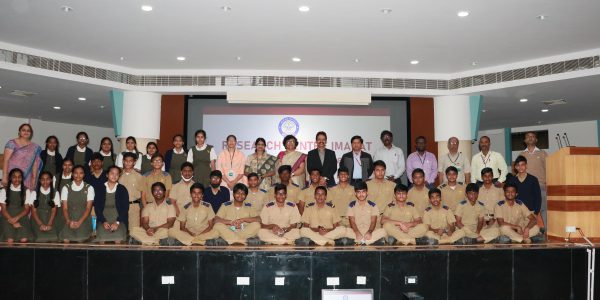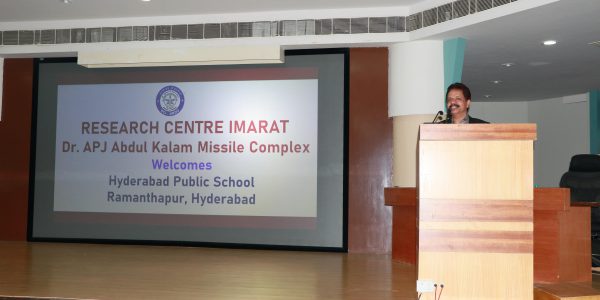 Report on Life skills Program
In a constantly changing environment, having life skills is an essential part of being able to meet the challenges of everyday life. Life Skills help promote overall well-being and competence in young people as they face the realities of life in the present competitive world.
We, at The Hyderabad Public School, Ramanthapur espoused different ways to enhance Life Skills among our students through online platform. After attending training under the CBSE Panelists, our selected students who are called as Peer Educators, then conducted a workshop for classes of 9th and 11th respectively on 12th February, 2022.
The Peer Educators prepared for a virtual session where almost 90+ students joined and interacted during the session. Trained peer educators are a more credible source of information for some youth than are adult educators because they communicate in readily understandable ways and serve as positive role models while dispelling any misconceptions.
The Peer Educator spoke on the various themes like:
1. The journey from Core Life skill to 21st century skills & Building Resilience.
Peer Educator: BH Pranav (11-A)
2. Healthy expression of emotions. Peer Educator: Anugna (11-B)
3. Developing Healthy Interpersonal Relationships Peer Educator: Sri Nithya (9-C)
4. Family bonding and caring; Communication- Emerging paradigm Peer Educator: Ojasvi Cheruku (9-B)
The session turned out to be enriching for students, teachers and as well as for the presenters themselves as they spoke on topics that were very relatable to their personal lives and also suggested ways of handling situation in a more healthy and positive manner.
Life skills education helps students build confidence in both communication and cooperative and collaborative skills, provide them with tools important for development, find new ways of thinking and problem-solving and provide methods on how to socialize, make new friends and recognize the impact of their actions and behaviors.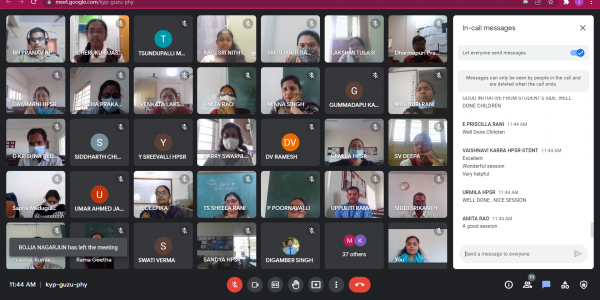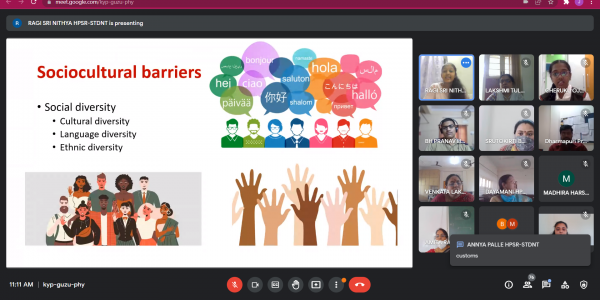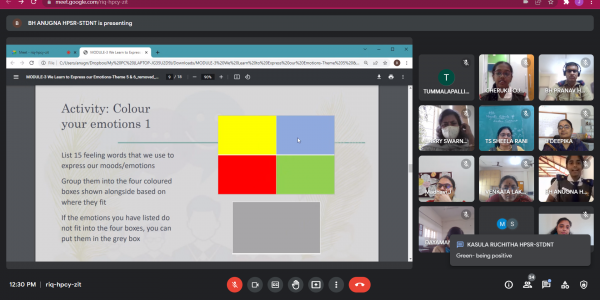 Visit to National Institute of Nutrition – Educational Trip
On 23rd February 2022, a group of 36 students, accompanied by two teachers from 'The Hyderabad Public School', Ramanthapur were fortunate enough to visit the National Institute of Nutrition, to attend 'Festival of Scope for All'.
The students had an engrossing interaction with Dr. Mohan Rao, former Director of CCMB ,a distinguished Scientist at the CSIR. He highlighted the inevitable role of science in our lives since the Pre-Vedic Period.
He explained the leading role of India in various sectors and his examples of the first Rhinoplastic and Cataract surgeries were performed in India to support the talk fascinated all of us immensely.
There were exhibits that included 'Extract your DNA using household ingredients, 'The effect of cheap pesticides exposure on farmers', 'Nutritional value research', 'A detailed explanation of RT-PCR (Reverse transcription-polymerase chain reaction)', and a demonstration of Lab equipments. This was very informative and interesting. We were then taken on a trip to the universe on the 'Space on wheels', a bus designed by the ISRO that presented India's achievements in the space sector. The team was extremely interactive and took all the questions from our budding scientists with utmost patience.
All in all, it was a great day for us to learn and 'shadow' the scientists.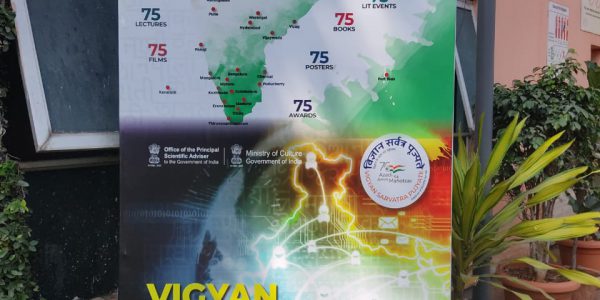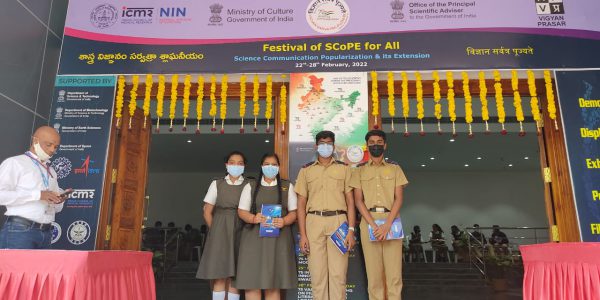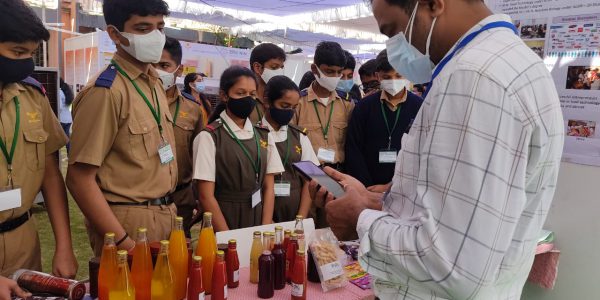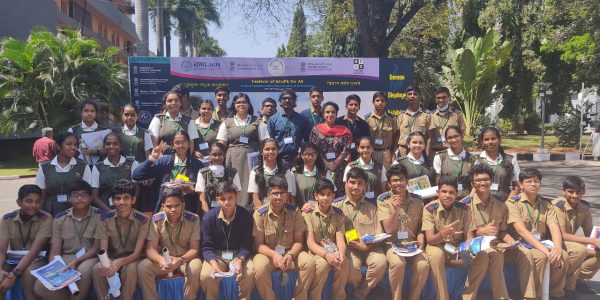 A Trip To Bharat Dynamics Limited
Founded on the 16th of July, 1970, Bharat Dynamics Limited is one of India's premier manufacturers of ammunitions and missile systems. With its origin in Hyderabad, Telangana, BDL was established to be a manufacturing base for guided weapon systems and began by producing a first-generation anti-tank guided missile – the French SS11B1.
Our school, The Hyderabad Public School, Ramanthapur was able to provide us with an opportunity of taking a peek into the world of missiles. Within a time-span of 45 minutes (on a bus), we reached our destination.
After a brief security check, all of us were made to sit under a roofed seating area.
With slight rhythmic vibrations of the speakers, and the screen coming to life, the introductory video began. With beautifully showcased information, we were able to assimilate plenty of facts regarding BDL and the different kinds of missiles manufactured by it for the Indian Armed Forces. Included in both the video as well as the display were the following:
1. Milan-2T, which is a Tandem Warhead ATGM with a range of 1,850 metres, produced by BDL under licence from MBDA Missile Systems, France.
2. Flame (Fagot Launcher Adapted to Milan Equipment), a cost- effective launcher for firing Milan missiles.
3. Akash, a medium-range mobile surface-to-air missile (SAM) system developed by the Defence Research and Development Organisation (DRDO) and produced by BDL.
4. MR SAM (Medium-Range Surface-to-air missile) designed to defend against any type of airborne threat. It was jointly developed by IAI, DRDO, DDR&D and other companies.
5. Varunastra (Torpedo), an Indian advanced heavyweight anti-submarine torpedo, developed by Naval Science and Technological Laboratory (NSTL) of the Defence Research and Development Organisation (DRDO) for the Indian Navy.
6. Also, the ASTRA, INVAR, Nag ATGM and Konkurs-M ATGM amongst several others.
BDL has cutting edge manufacturing facilities, constantly being upgraded with state-of-the-art infrastructure, developed skill-sets, flexible production lines and quality assurance.
This exhibition opened our minds regarding the many job opportunities and what all the world has to offer to the youth. Being able to see the magnificent missiles and weapon systems was utterly awe-inspiring. Ranging from sonobuoys and torpedoes to ATGMs and SAMs, each filled with power that'll protect and ensure our country's peace and safety…as BDL rightly says, "The Force Behind Peace".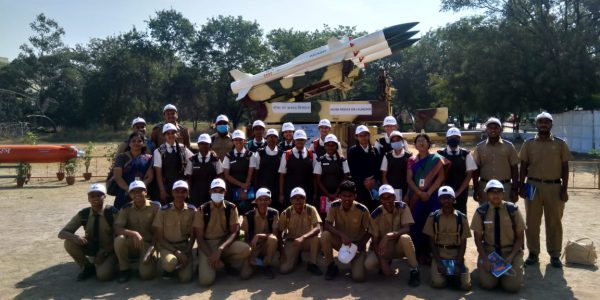 FIELD TRIP to S U M O B I S C U I T S PVT. LTD.
HPSR Alumni Association actively supports the school Entrepreneurship program named ' HPSR YoungPrenuers' for an experiential learning for the students. Supporting the effort Mr. Ramakanth Soma, the MD of the company , a proud alumni from the class of 1992 hosted 55 students and 2 teachers, on 22nd December,2021.
The students of class 11 and 12 Commerce/Entrepreneurship attended a field trip to Sumo Biscuits Pvt. Ltd. Located at Kistapur, Shamirpet Road.
The students and teachers were warmly welcomed . The products manufactured were explained through a Power Point Presentation. Then the group of 40 students was divided into 4 groups. Each group was escorted by one of the company personnel. Students understood how the wafer biscuit and biscuits were made. They also came to know about the procurement of raw material, the product manufacturing process and packing. The laboratory had efficient quality control system . The technicians patiently explained the students about the R&D process . Sumo Biscuits Pvt. Ltd. Produces Parle biscuits and its own brand of biscuits, wafer biscuits and chocolates too.
It was a very educative field trip. Students not only learnt the process of biscuit manufacturing but also learnt the importance of discipline and adherence to quality standards. It was a wonderful experience to the young minds to blossom and get inspired.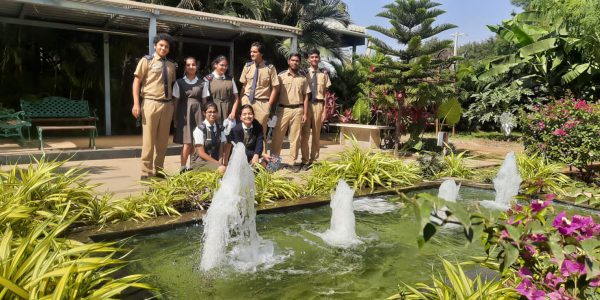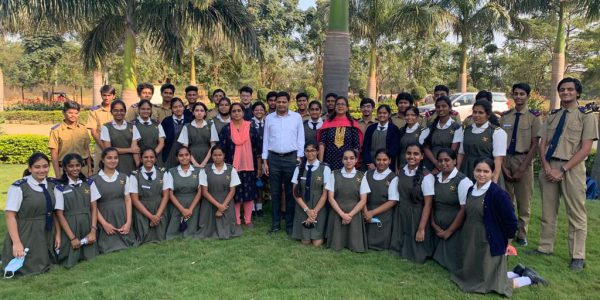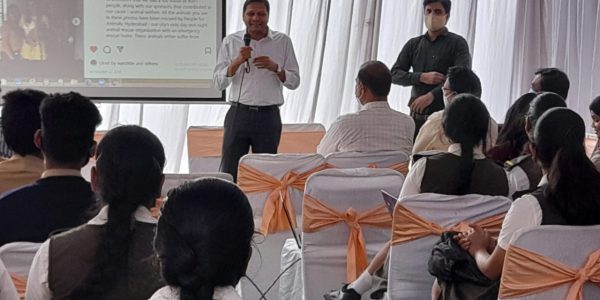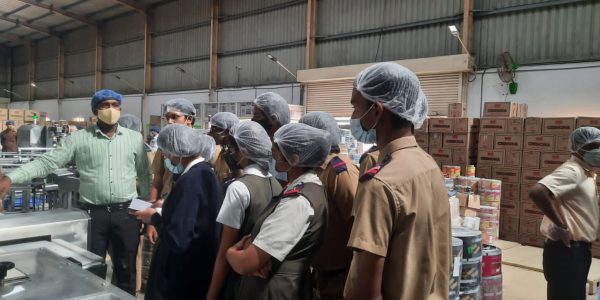 Webinar on "Responsible Online Behaviour
On 29th December 2020, an apprising webinar was hosted by The Hyderabad Public School, Ramanthapur" on "Responsible Online Behaviour". It was attended by all the faculty members and the students along with their parents.
The Resource person Ms. Janice Verghese is a Cyber Lawyer and Cyber Security Specialist, Manager-Communications and Training Cyber Peace Foundation.
This initiative was aimed at engendering a general cognizance around protecting oneself from online malpractices. The students were taught how to check the legitimacy of apps, the proper utilisation of built-in security features for the devices being used and other such ways to make sure cyber security is optimal. Scamming and various forms of phishing were addressed too as prevalent issues where cyber security is concerned. Having knowledge of such malpractice makes us fit to interact with online interfaces. Along with cyber security, students were informed about creating a safer online ecosystem via making use of the reporting option on almost all social media websites. The students were also made aware of the detrimental impact of falling prey to harmful online practices and were implored to always approach the digital ecosystem with caution. Safeguarding oneself from toxic online practices has attained paramount importance in an ever increasingly interconnected world.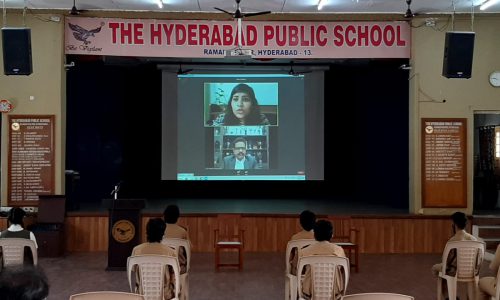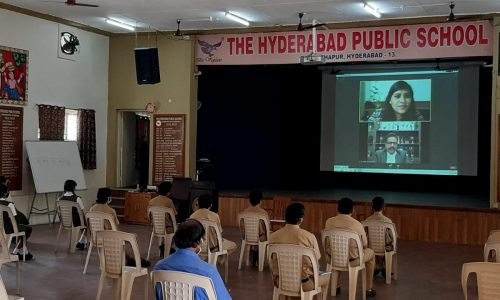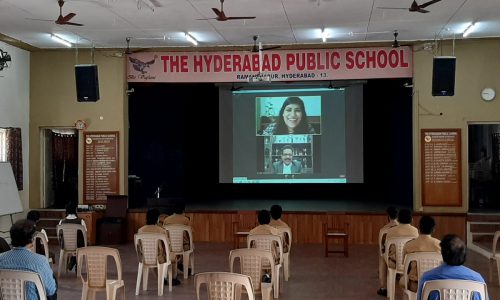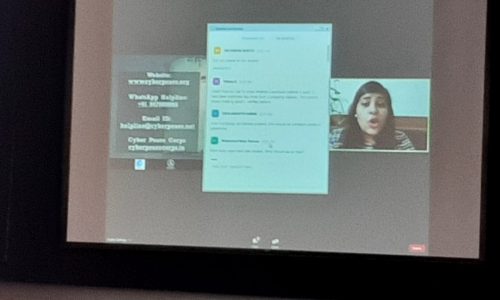 If we don't act now to safeguard our privacy, we could all become victims of identity theft – Bill Nelson
Society For Cyberabad Security Council (SCSC) in collaboration with END NOW FOUNDATION conducted an awareness session on 'Cyber Security Awareness' for the faculty of The Hyderabad Public School, Ramanthapur and Warangal on 7th August, 2021.
The team of SCSC- Mr. Krishna Yedula, Mr. Abhishekh and Mr. Ajay Mali expounded about the SCSC which is a unique organization that acts as a bridge between the Cyberabad Police & Govt. on one side and the IT Industry on the other.
The prime focus of the organization is safety and security of Cyberabad IT industry, Women safety, Traffic safety, Cyber safety and Information security.
The organization has taken up a variety of activities and initiatives to ensure the safety of women working in IT corridors, facilitated free She Shuttles for working women. It also set up 'Margadarshak' and 'Sangamitra' to resolve issues among women who are in distress, facing work harassment, domestic violence, etc.
Privacy has become one of the biggest problems in this electronic age. Unauthorized access to our personal information on various social websites has increased instantaneously. It is high time people should realize that freedom comes with responsibility.
The Chairman, Mr. Anil Rachamalla, (END NOW FOUNDATION) explicated us about the cybercrime which is progressing at an incredibly fast pace in recent times. It has become evident that cyber criminals are exploiting new technologies to deceive people in various forms.
He acquainted us with formal knowledge on digital wellbeing, the capacity to look after personal health, safety, relationships, and work life balance in Digital Settings and empowered to be digitally fit and detox the smart phones to avoid and safeguard from cybercrimes like phishing, investment frauds, hacking, cyber stalking, identity theft, etc.
He also advised to take up 'The Interaction Module' for students and set up 'Digital Well-Being Club' in the schools and educate students about the risk children face by social media, online fraud, and cybercrimes and also conduct sessions on 'Digital Parenting' and give internet safety tips for parents.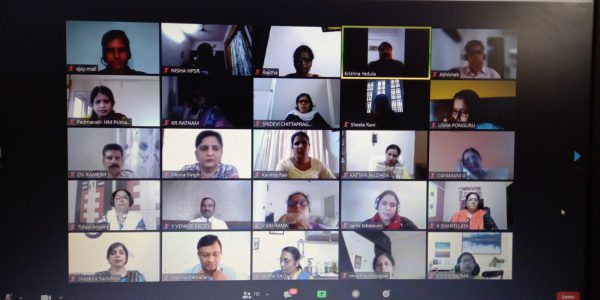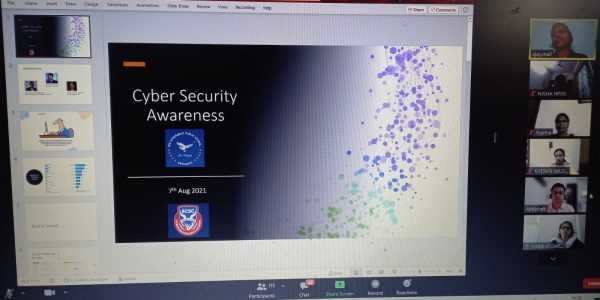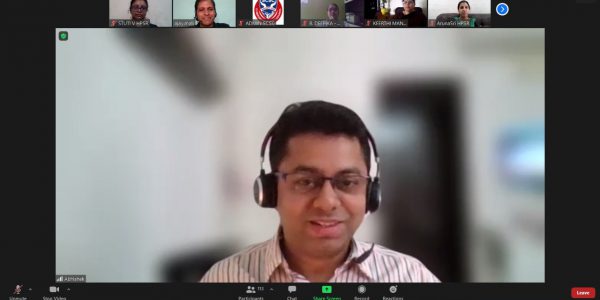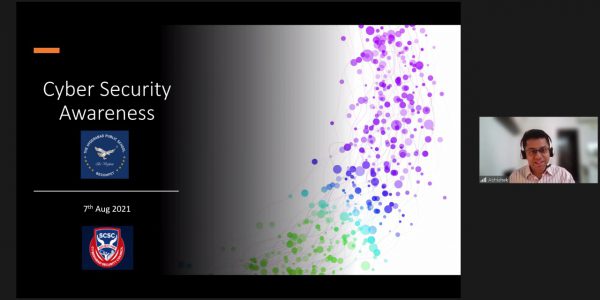 Computational Thinking: A Digital Age Problem Solving Skill for Everyone
'Change is the law of life …… and those who look only to the past or present are certain to miss the future." John. Kennedy.
How people solve problems by systematic thinking with the help of technology is known as Computational Thinking.
The Hyderabad Public School, Ramanthapur, participated in a live session on 'Computational Thinking for Teachers' on 4th August, 2021. The organizers of this program were Eupheus Learning. Mrs. Gurpreet Kaur, the resource person is a passionate edupreneur- a Google Certified Innovator and a change maker with over 22 years of experience, whose mission is to empower educators and bring an AI revolution.
CT and computers are two different things. CT is a mandatory problem-solving skill, a scientific method- a very streamlined technique and a critical skill for better understanding of complex systems by netizens in the 21st Century.
For students, CT is a tool not only to solve a particular problem but a key skill, to prepare for exams, to develop models, to understand complex systems and also make sense of large amounts of data.
Computational Thinking is actually the way humans think and not the computers. It is a fundamental skill and not a rote skill. Above all it was an enriching and informative, session with a wonderful presentation.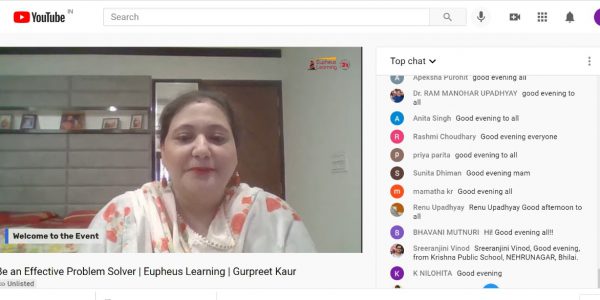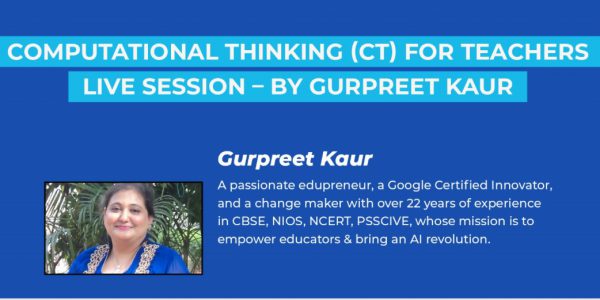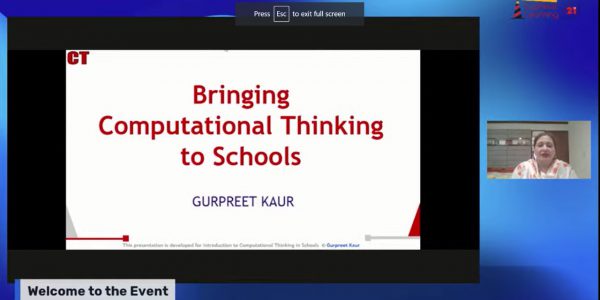 WORKSHOP ON STORY TELLING
Storytelling is a universal and traditional art form that has featured strongly in Indian culture as an effective communication tool.
A workshop on the art of storytelling was organized for the teachers, students, parents by Ms. Priyanka Chatterjee (aka Golpodidi), of 'Live Reading Club' , on 31st July 2021. It was a valuable session. Teachers, children and parents listen to the stories engrossed – 'Awangalima', 'The land of ten suns', 'The frog and the snake'. Facial expressions was emphasized on by the resource person . The appropriate use of voice modulation and body language infused passion, enhanced imagination ,expression and introduced children to new horizons of storytelling.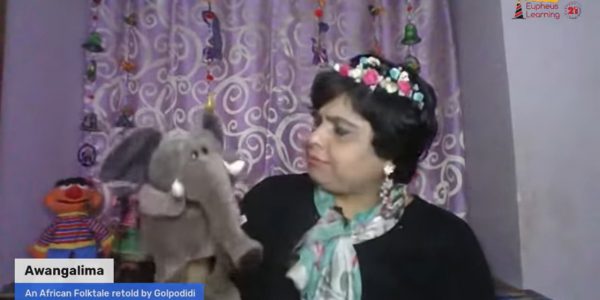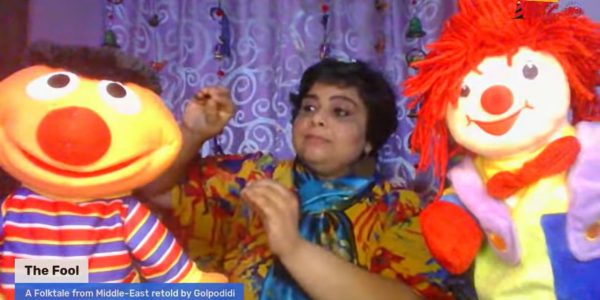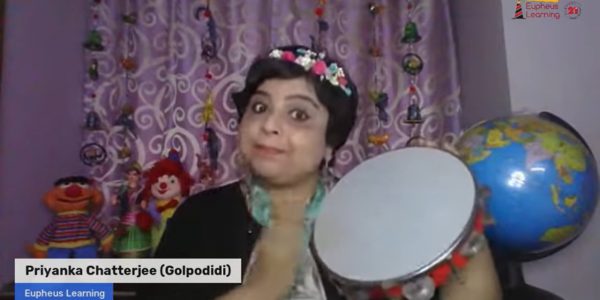 Personal Leadership & DNA of Happiness workshop
"The awakening of consciousness is the next evolutionary step for mankind" – Eckhart Tolle
In his very first session, Prof. D V R Sheshadri (ISB) on the 11th of June 2021, expounded on the concept of LEADERSHIP and the various attributes of a leader. He reiterated on the importance of imbibing the Spiritual Quotient which aids in the practice of 'Letting Go', moulding us into enlightened souls.
The session also called to attention 'Food, protein, pandemics, and the future of humanity' as the immediate need of the hour that comprise the Ecological Quotient which must be accentuated in classroom transaction as well.
Lives of leaders who have become realised souls and paragons of virtue and spiritual awakening were illustrated to developing a wholesome personality.
In the second session conducted on the 12th June 2021, Professor Sheshadri reflected upon an individual's DNA of Happiness highlighting the three golden keys of happiness – Freedom, Family, Friends, and their relationship with the aspect of monetary wealth. The way to find fulfilment in the professional and personal life comes with identifying oneself with the universal "I".
In the third Session on the 2nd of July, 2021, Prof DVR. Sheshadri, engaged the gathering in understanding the importance of quietening the mind, in order to connect to their inner consciousness.
The breathing exercises included in the Mind Quietening Techniques eventually help connect to the Infinite, that has the transforming power to lead us on the path of true freedom and healing both the body and the mind.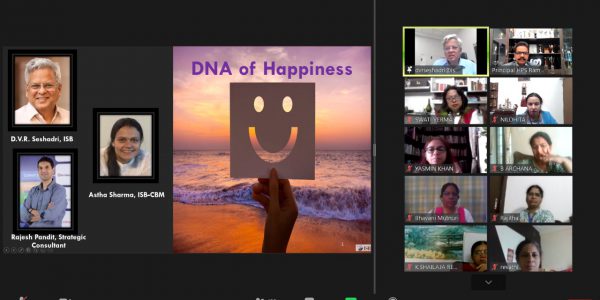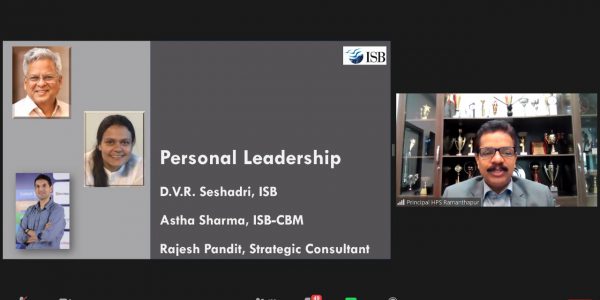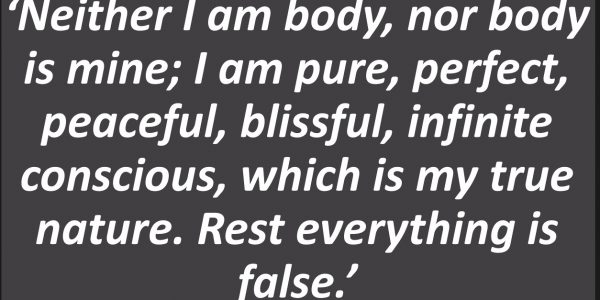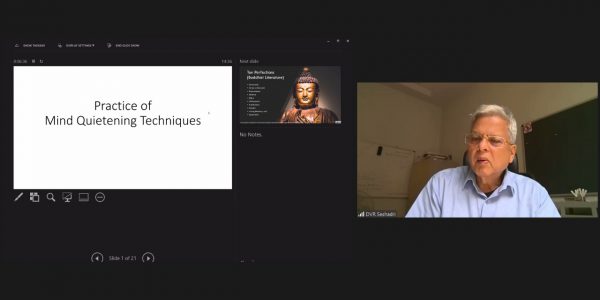 Webinar on Instructional Tools in Teaching Science.
Primary School Science Teachers attended a webinar on Instructional tools in Teaching Science. Conducted by Evergreen Publications
Resource Person -Baljinder Kaur.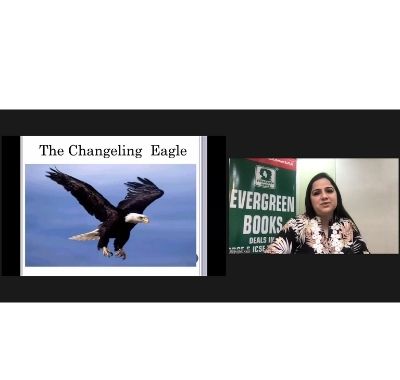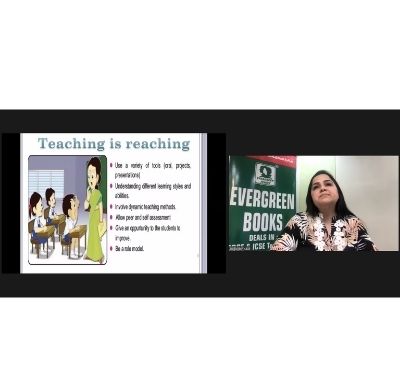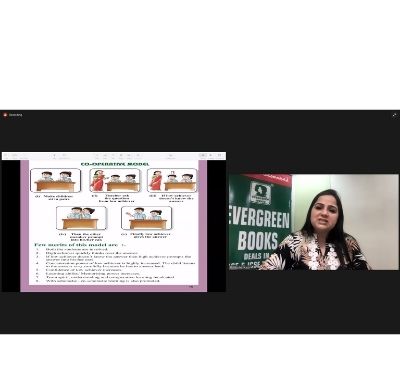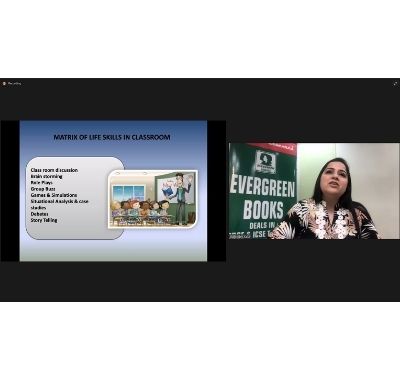 REGIONAL SUMMIT OF SCHOOL PRINCIPALS
Helping one person might not change the whole world, but it could change the world for one person.
A Joint Initiative of ICTRC and The Hyderabad Public School, Ramanthapur under the Project Paradigm, was held on 26th June 2019 at The Hyderabad Public School, Ramanthapur. The resource person for this Summit was Dr.V.S. Ravindran, Director General, ICTRC.
ICTRC is the Institute of Counselor Training Research and Consultancy. For members of the teaching fraternity, ICTRC promulgates insights and practical solutions to nurture professional and personal growth. The subject of the Summit was 'Aggression in Children.'
Aggression in School Children has been a concern as growing incidents of aggression pose a grave challenge to teachers and educational authorities. It is also an obstacle to student development and achievement.
The topics related to identification and management of anger and behaviour problems related to aggression were discussed. Moreover, preventive measures, remedies, and recommendations were also discussed in the workshop. Around 67 delegates, including Principals and responsible Faculty members from the states of Telangana and Andhra Pradesh, attended the Summit.
The workshop was an enjoyable learning experie.
PRINCIPALS' CONFERENCE
Individual Liberty and Interdependence are both essential for life in Society.
– Mahatma Gandhi
An orientation program for the Principals of CBSE affiliated schools under 'Hubs of Learning' in the state of Telangana was held on 30th July 2019 in The Hyderabad Public School Ramanthapur, Hyderabad.
The CBSE decided to form 'Hubs of learning' for self-improvement of schools. In this program, four to five schools come together, collaborating, and working towards quality enhancement. They work jointly as a shared entity to initiate leadership, best practices, research, support and training to achieve set goals collectively and pursue excellence.
Around 200 Principals from both the states of Telangana and Andhra Pradesh attended the conference. The orientation program was conducted by Mr. M.V.V. Prasada Rao from the Center of Excellence (COE), in which Mr. Rao explained about the activities to be undertaken by the 'Hubs of Learning' and also about the necessity of such programs which provide shared facilities by faculty members from different disciplines.
Mr. Prasada Rao in his program also emphasized schools to promote a culture of collaboration and to respect and engage the expertise among the HUB members to create more efficient and effective tools of teaching and to move ahead to realize and reach the expected goals of 'Hubs of Learning' (MANDATED BY CBSE).
The schools in 'Hubs of Learning' are expected to adopt a collective approach towards growth and self-improvement; adapt initiatives of competence in areas of instruction, thereby providing quality education for the students.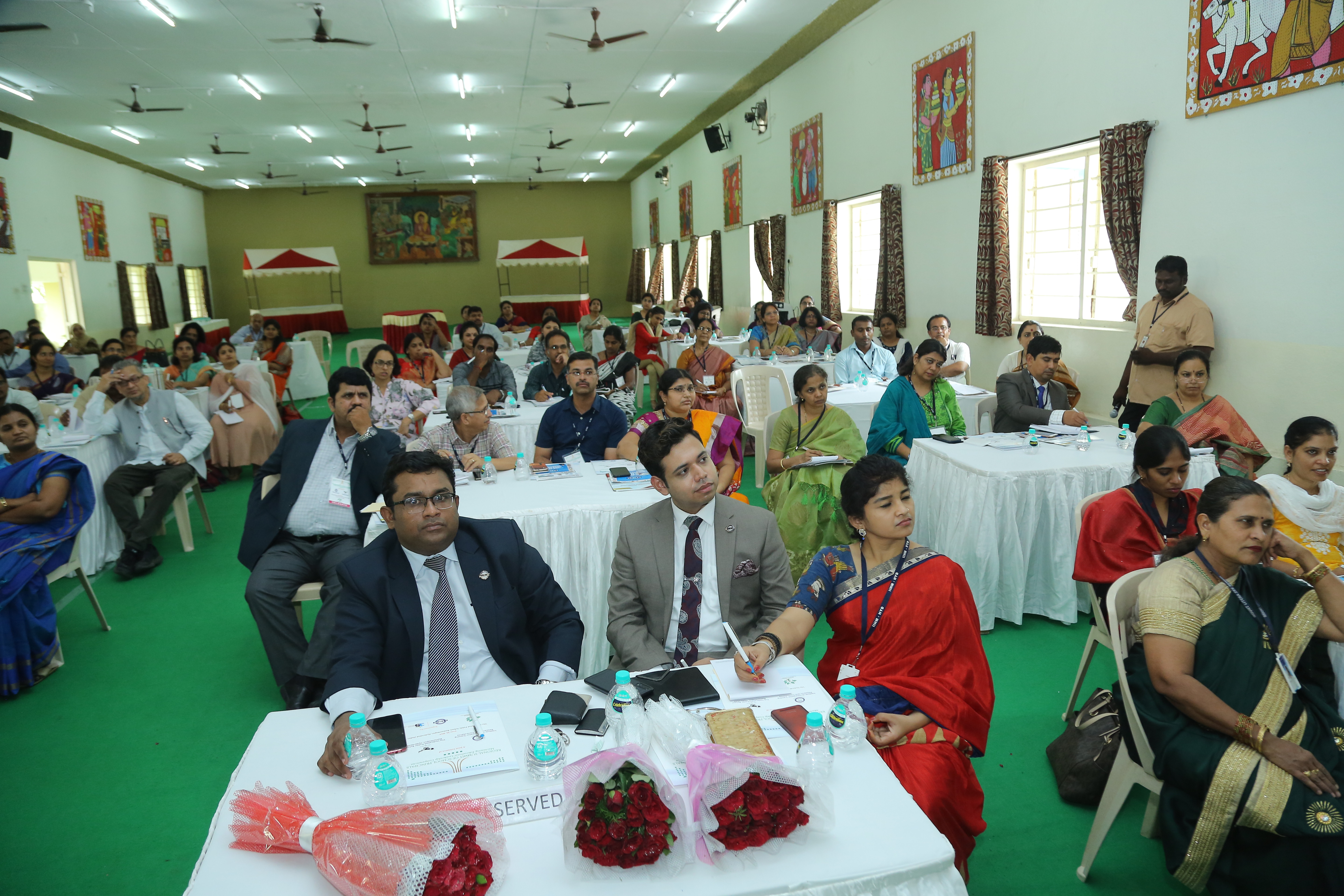 SCHOOL EXCURSION
Life is all about balance. You don't always need to be getting stuff done. Sometimes its perfectly okay, and absolutely necessary, to shut down, kick back and do nothing
– Lori Deschene
Some experiences in life get etched in our mind forever, and the most memorable part of school life is the SCHOOL EXCURSION. The local excursion for the year 2019-2020 was scheduled for 14th December 2019.
Fresh air does wonders for children's mental health. The students of classes 1 to 5 were taken to The Nehru Zoological Park. The tiny tots were excited to explore the unique elements of nature. They were filled with wonder and fascination at the sight of the various animals.
Fun and learn is what the students of classes 6 to 8 did. They visited the Birla Planetarium. With all their curiosity and undaunted passion for science, the students spent quality time on this educational trip.
It was a walk down history lane for the students of classes 9 to 11 as they circled the majestic Golconda Fort, which is Hyderabad's history and pride. With the sun beating down, the walk along the fortress walls seemed arduous, but the sight of the citadel at the end of the long walk felt like an accomplishment.
Even class 12 got an opportunity to break from the monotony of the classroom and spend the day with friends at Leonia Resort , making memories that will be cherished forever. The trip provided the much-sought relief from everyday routine. An excursion always refreshes our tired nerves and fills in us a new positivity and makes us happy souls.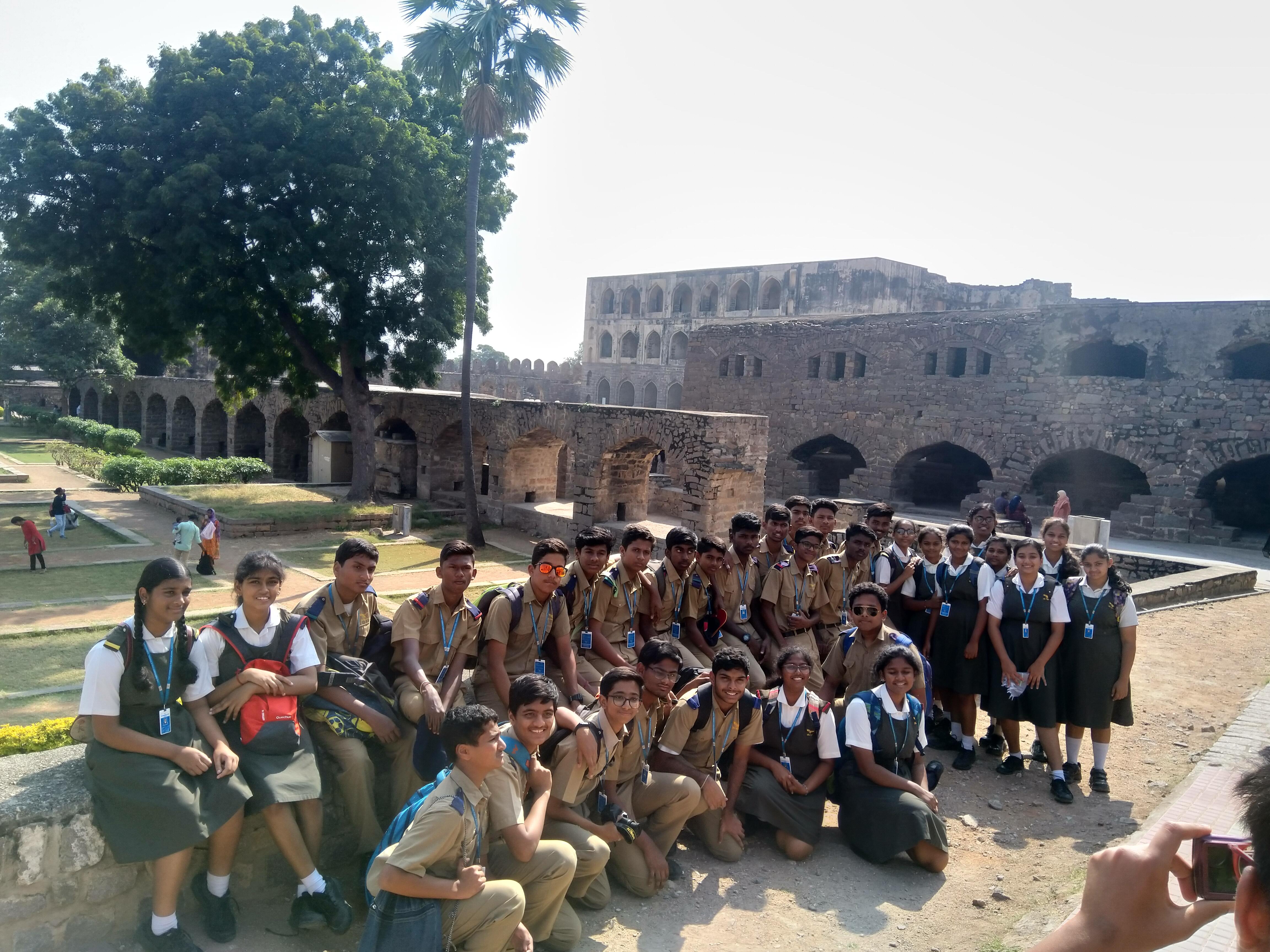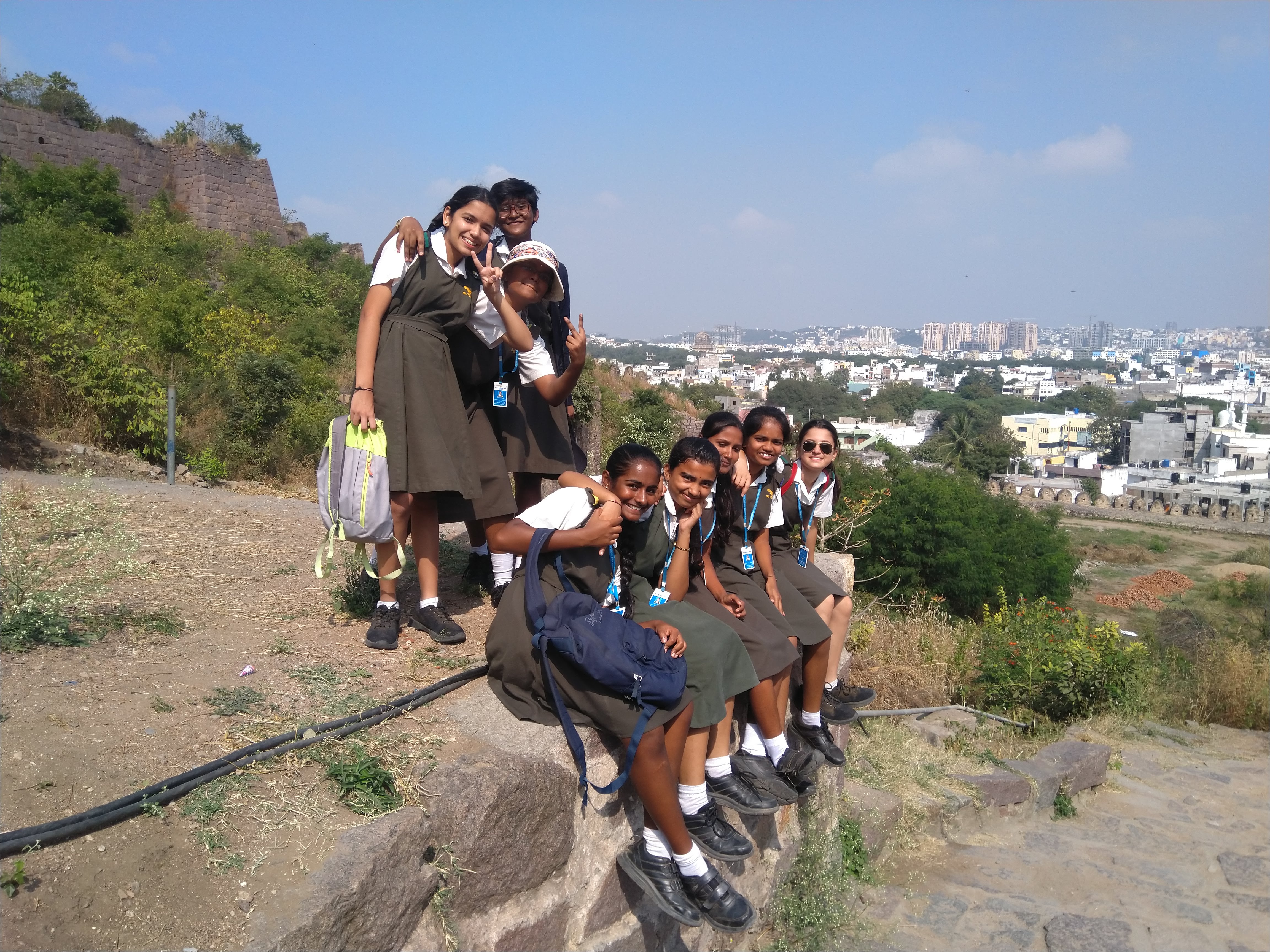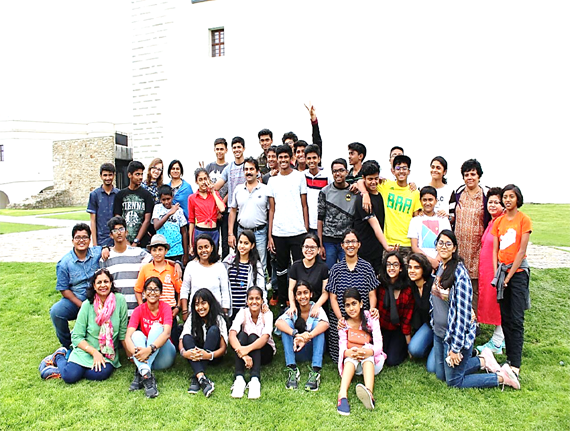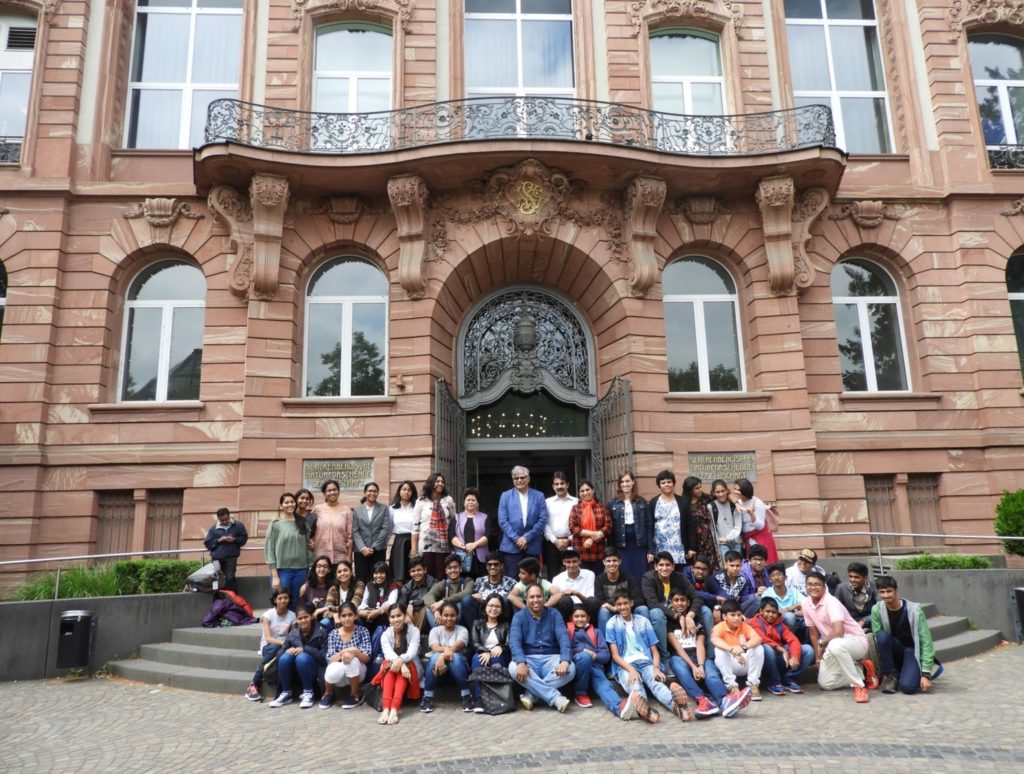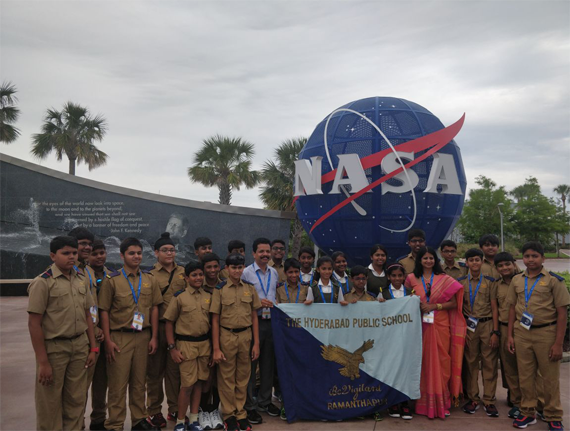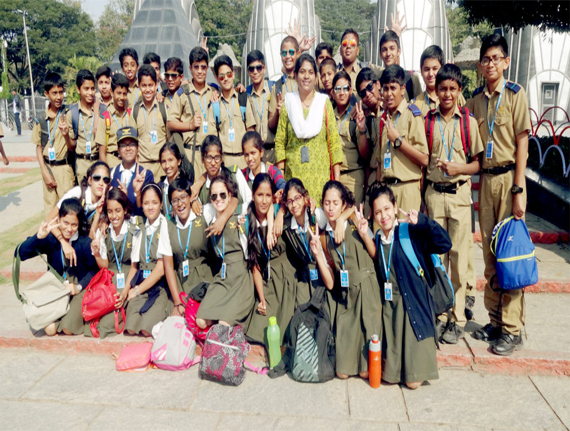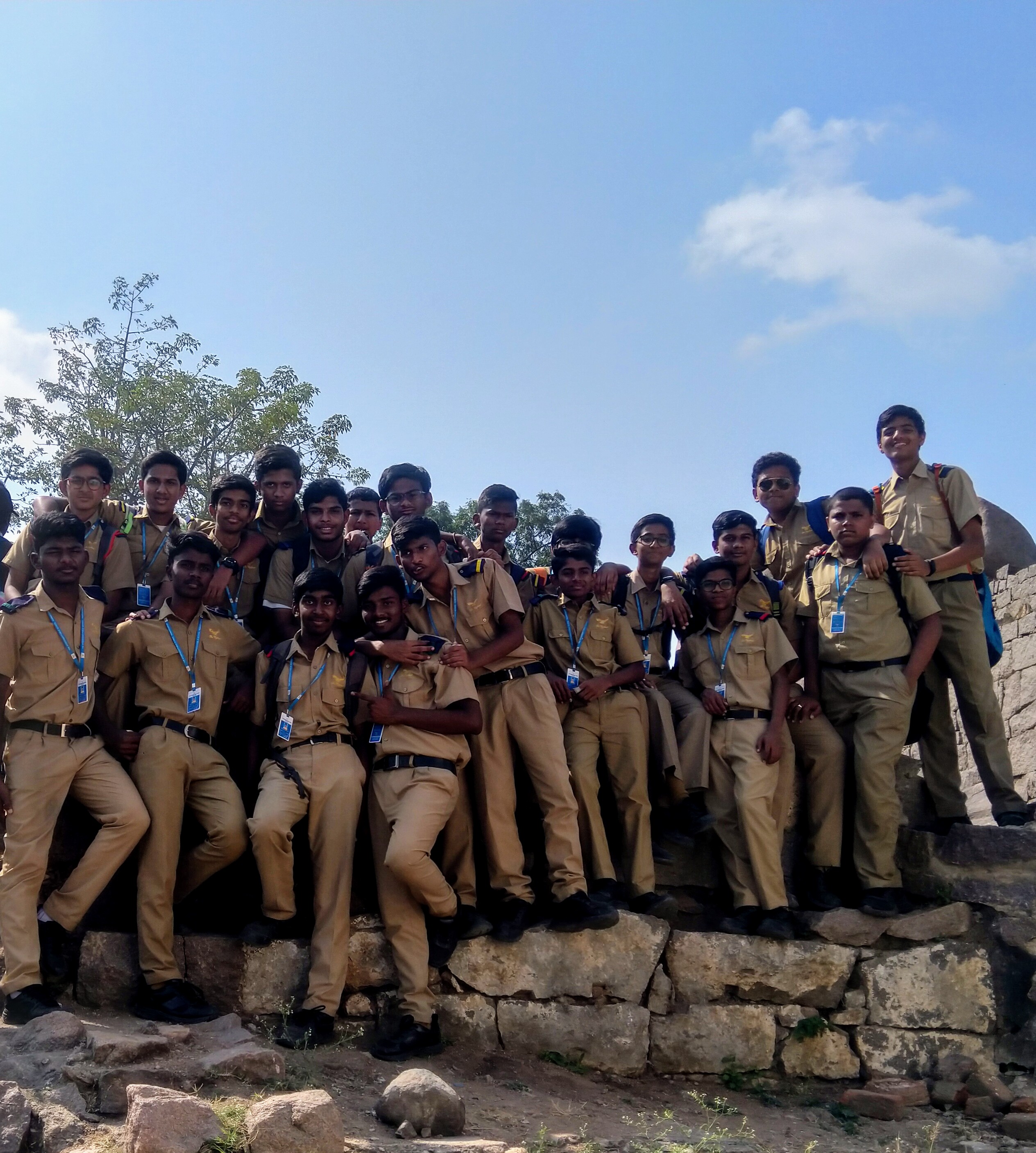 ICTRC WORKSHOP
The Institute of Counsellor Training Research and Consultancy Initiative under Project Paradigm conducted a workshop for teachers on 9th and 10 February 2021, on the topic "Transacting Transition – Mental Health Problems in School Children".
The two-hour workshop lead by Dr.V.S Ravindran, Col Gopal Karunakaran , Mr. Sanjay Padode and the team involved understanding and recognising school children with mental health problems. Teachers were given an insight into what constitutes mental health including strategies and approaches to dealing with students with empathy and care during these post pandemic times.
The much need of the hour discussion was an eye opener and extremely valuable in helping teachers prepare to welcome back students in to the classrooms.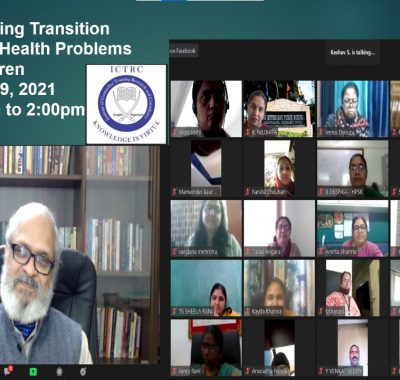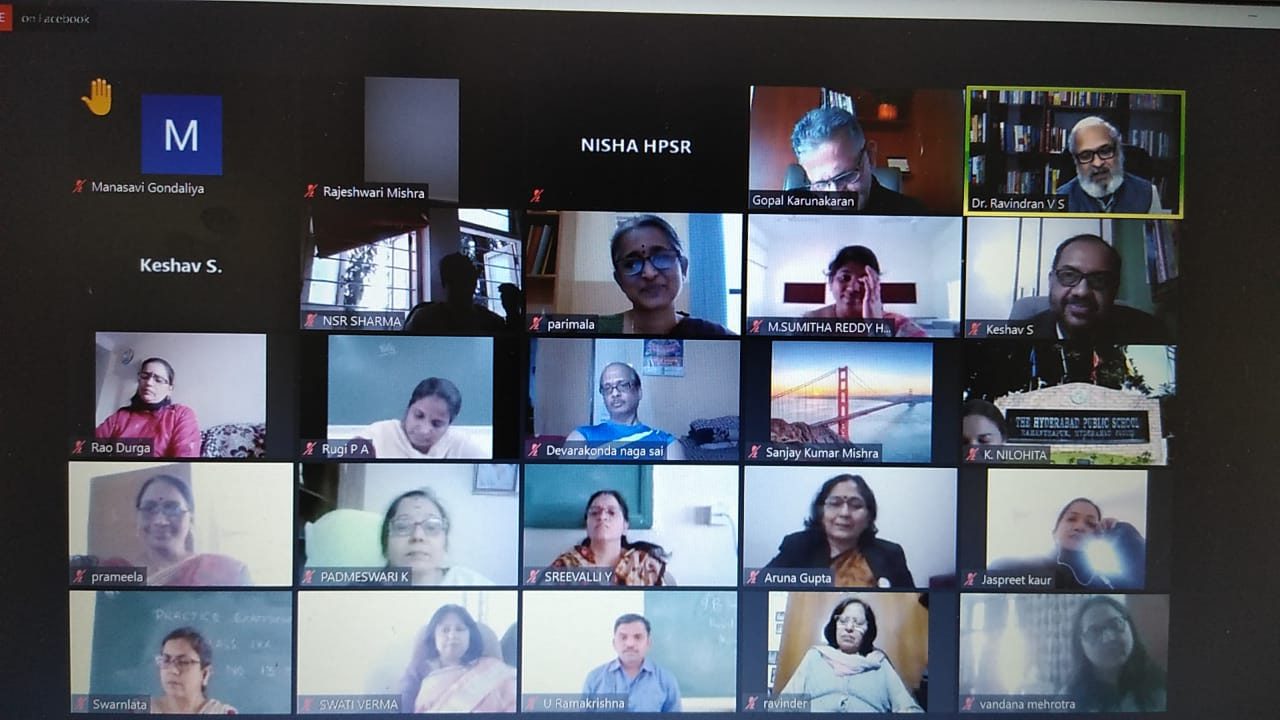 MANAGING MENTAL HEALTH DURING THE PANDEMIC
On 9th June' 2021, we had an enriching workshop on 'MANAGING MENTAL
HEALTH DURING THE PANDEMIC'. The Resource person Mrs. Sumbul Alladin, who is a therapist with over thirteen years of experience, is a committed and empathetic partner in the healing process of Psychotherapy. She emphasized being mindful and adopt a rigorous self-help methodology. Many stress coping techniques, meditation, and breathing exercises were suggested to reduce depression. The workshop made us aware of all the benefits of mindfulness and positive energy which indeed helps in overall well-being.
SOME INSIGHTS INTO TEACHING A REPORT
Dr. John Verghese, Principal of St. Stephens College, Delhi, conducted a session on "Some Insights into Teaching" on June 10th, 2021.
The workshop focussed on the fact that a teacher comes across several nuanced concepts while teaching, which need to be conveyed to each and every student in the class. A teacher must have vision for any venture he/she undertakes in the classroom session. A vision is essential for all learning-based activities.
The interesting point that was made in this workshop was that the teaching profession is a vocation rather than a job. It is an all-day responsibility in which "Truth and Values" should take precedence. Values must be instilled and chiselled into the students. However, due care must be taken to be rid of complacency.
The workshop stressed on the need for a 'discipline' based teaching pedagogy. The session was concluded with a series of questions designed to prompt educators to pause, reflect and introspect.
EFFECTIVE COMMUNICATION ON DIGITAL PLATFORM
'' The way we communicate with others and ourselves ultimately determines our quality of life".
~Tonny Robbins
A workshop on ' Effective Communication On Digital Platform' was conducted on 10 th June 2021 by a renowned trainer Mr. Guru Nadkarni , Director at E -Plus Learning Solutions Pvt Ltd. Guru Nadkarni has 20 years of experience in pre adolescent psychology and is passionate about helping parents by sharing effective strategies on better parenting.
Mr Guru Nadkarni started the session with a beautiful poem on teachers and explained that effective teaching is a process of communication where objectives get achieved. He emphasized on the point that there is a 360 degree change in the teaching methodology in the present scenario. Accordingly he discussed about the challenges in online teaching, impacts of the challenges that we are facing , solutions to the challenges to combat the challenges and finally the results (enhancement in learning and satisfaction for the students and teachers). A series of polls were taken to discuss various aspects and the result of every poll was displayed . This polling tool engaged and involved the teachers to the maximum thus making the teachers aware of the poll tool to make our teaching more interactive. Finally it was explained that on the digital platform the learning should be inclusive by making everyone involve in the teaching learning process .
Effective communication boosts morale in the workplace and gets employees to be more productive. The proper tailoring of the language is the key to all engagement and collaboration in the workplace, helping even in situations of disagreement and stress.
Webinar on Story Telling as a Pedagogy – 14 th June 2021
The teachers of The Hyderabad Public School, Ramanthapur attended an Online Training Programme on 14 th June,2021 on "Story Telling as a Pedagogy" . The webinar was conducted by CBSE as a skill development program. Deeptha Vivekanand was the resource person , a Story Telling Consultant at St Kabir School, Chandigarh and also is a founder of Ever After Learning. The webinar inspired the teachers to take up story telling consciously as a pedagogical tool in the teaching learning process. Being story-educators helps the teachers to move ahead with the curriculum in a more effective way . Also the various aspects of telling a story helped the teachers to gain skills required to design their own stories which in turn will help in engaging the very young learners. Integrating storytelling at all levels fuels the power of imagination and creativity in the young minds.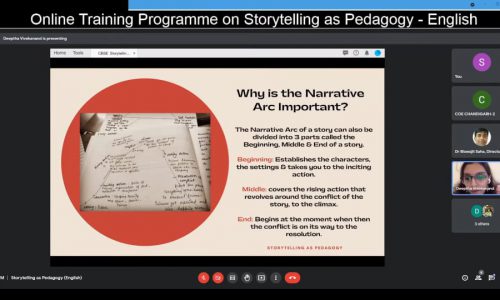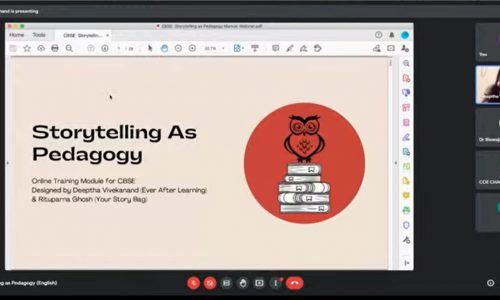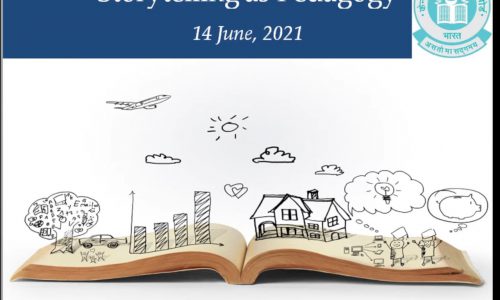 Awareness Program for school teachers on Innovation Ambassador training
Program, Hackathons ,Atal Academy and Student Induction Program
AICTE Innovation Cell conducted a Webinar for Teachers on the various initiatives of CBSE in collaboration with the Ministry of Education on 14 th June,2021 .
The workshop was initiated to motivate, train and engage School students and teachers in various program like Innovation Ambassador Training Program, Hackathons, ATAL Academy and Student Induction .The dignitaries who graced this prestigious event are Chairman, AICTE Prof. Anil D.Sahasrabuddhe, Chairman, CBSE Shri. Manoj Ahuja.Vice-chairman, AICTE , Mr.M.P Puniya, Member Secretary AICTE Shri. Rajiv Kumar, Chief Innovation Officer Dr. Abhay Jayre, Commissioner Ministry of Tribal Welfare Shri. Arshid Gopal, Director of Innovation cell Mr. Mohit Gambhir.
The workshop gave an insight to the teachers as to how to make their students be a lateral thinker. Also emphasis was on ethical hacking and encouraging the students to engage in research & development. Teachers have to become mentors and guide these young minds in their pursuit of innovation and entrepreneurship.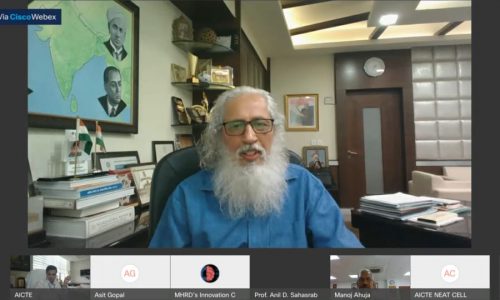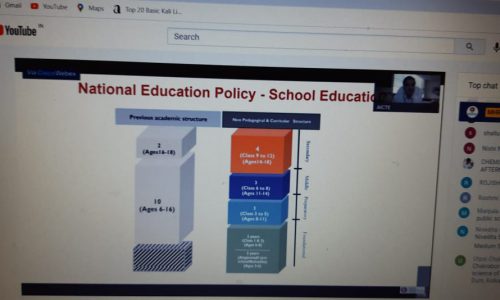 A webinar on 'Covid-19 and Children' was conducted on 12th June ,2021.It is a joint initiative of
Hyderabad Sahodaya, Bangaluru Sahodaya, Indian Academy of Pediatrics and UNICEF. The
program was taken to reinforce the program on how to protect your child and family from Covid
19. Learn the complete step-by-step management of Covid 19 in children. Learn how to prevent
'socializing' with the virus during gatherings, outings and outdoors.This was specially conducted
for the parents and caregivers.
The panelists for the webinar were –
1) Dr. Vijayanand – Consultant Pediatrician, Rainbow Hospital & Member, IAP
2) Dr. Giridhar Babu – Epidemiologist from Public Health Foundation of India
3) Dr. Sanjiv Lewin – Professor of Pediatrics & Chief Medical Services, St. John Medical
College, Bangalore
4) Dr. Arjun – President, IAPTCB
The moderators were –
1) Dr. Salima Bhatia – Health Specialist, UNICEF Hyderabad Field Office
2) Dr. Srikrishna – RSV Health Consultant, UNICEF & Secretary General, IAPTCB
A poll of 6 questions related to Covid – 19 was taken, the solutions for the questions were
explained comprehensively by the panelists. Many areas were touched upon and valuable
suggestions were shared through this excellent platform. The doctors with their expertise
answered the participants' queries. Overall, it was an important, informative and interactive
webinar.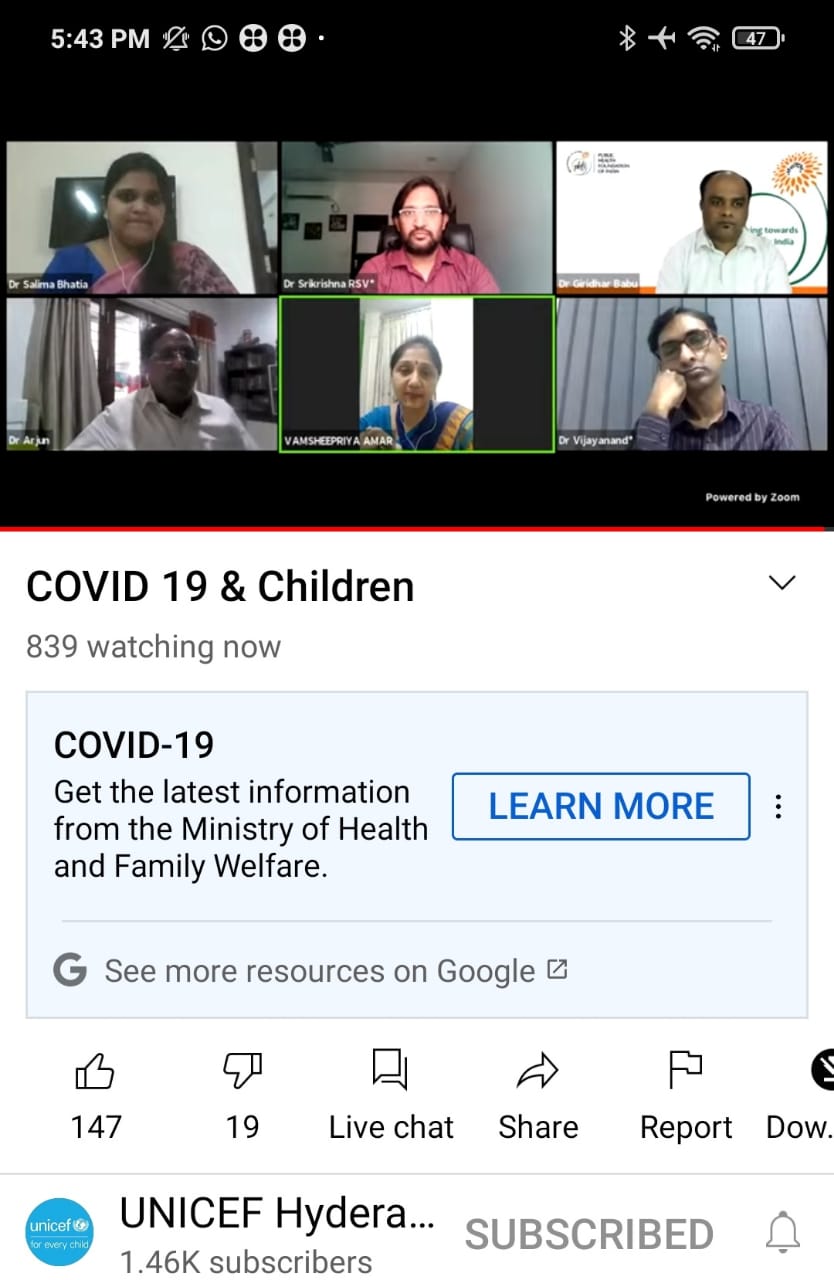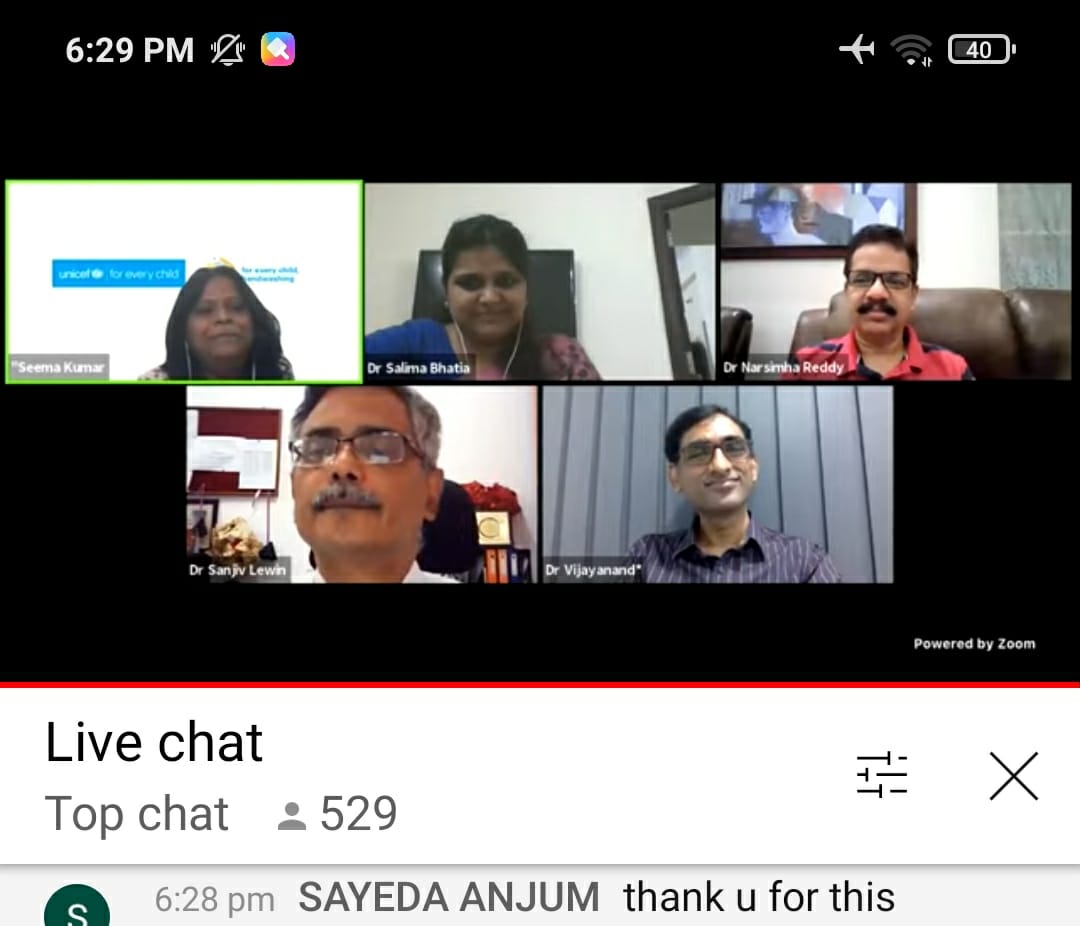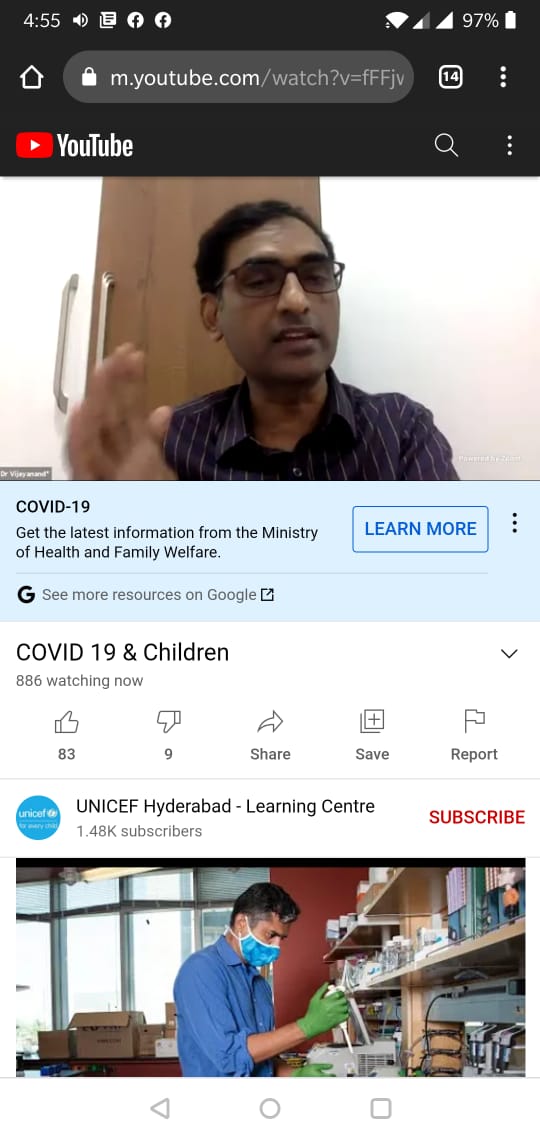 Understanding, Identifying and Managing Children with Learning Difficulties
Mrs. J .Madhavi , who works in the capacity of a Special Education Teacher in our school conducted an online workshop on 15 th of June. The workshop was on Understanding, Identifying and Managing Children with Learning Difficulties'. As a special education teacher she helped us be aware of the steps involved in the Learning process like sensation, attention, perception . The facilitator also described about the symptoms and types of ADHD, defined what Learning Disability is, how to identify a dyslexic student, the activities of the right and the left brain. She emphasized on the point that there is a lack of coordination between the right and left brain lobes in students with learning difficulties. To understand this better few slides with tricky words ,jumbled words in the sentences were presented to make the teachers empathise with the students having learning difficulties. Also the Myths associated with learning difficulty /learning disability like the students with these difficulties cannot be successful ,lack of parental involvement causes these difficulties were also discussed. Towards the end of the session a few Behavioural Strategies like rewarding appropriate behaviour , tips to handle dyslexic condition and usage of Graphic Organisers in the teaching learning process were explained.The session was very informative and useful for the teachers to identify students with learning difficulties in the early years of their schooling and make appropriate recommendations for the betterment of the students.
WORKSHOP ON ONLINE TEACHING TOOLS
Multiple workshops on 'Helpful Online Teaching Tools' were conducted from June 9 the to 18 th by Mrs. Sreelatha, Mrs. Geetanjali and Mr. Prabhat Kumar. Mrs. Sreelatha conducted a session on the usage of BOOK WIDGETS and KAHOOT to make the online classes more interactive. Mrs. Geetanjali walked the faculty through a brief introduction to MentiMeter which is an online teaching tool that can be used to conduct impromptu polls during classes. Mr. Prabhat conducted a workshop on Microsoft Live Worksheets and gave the faculty an overview about how this online tool can be used to augment teaching in a digital ecosystem. This training session was quite interesting as it echoed our belief in meaningful engagement in hybrid environments. These sessions not only equipped us with the skills to make our own quizzes/polls to engage everyone in the online class but to also make the online learning experience more fun. There were many queries from the teachers end which were answered very patiently. Overall, the session was useful for the teachers to get well equipped with the latest online teaching tools.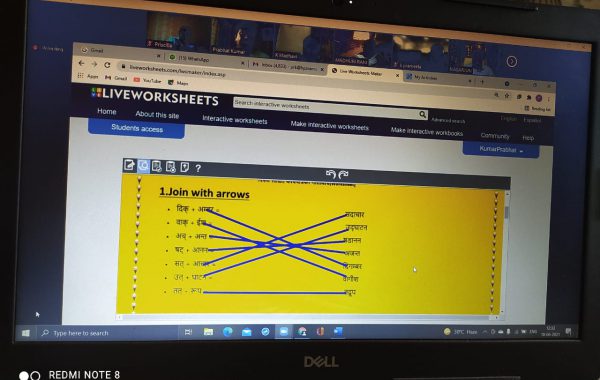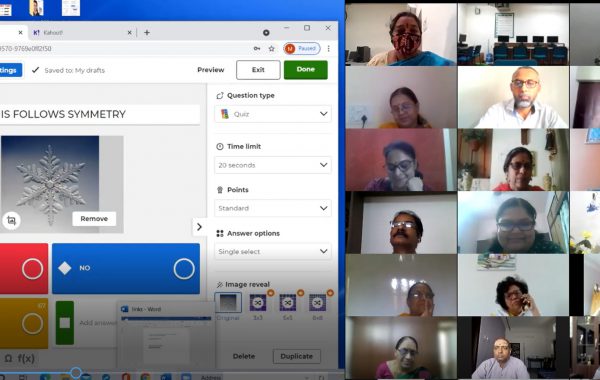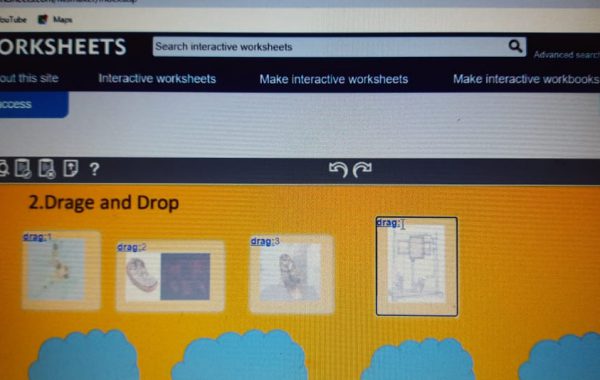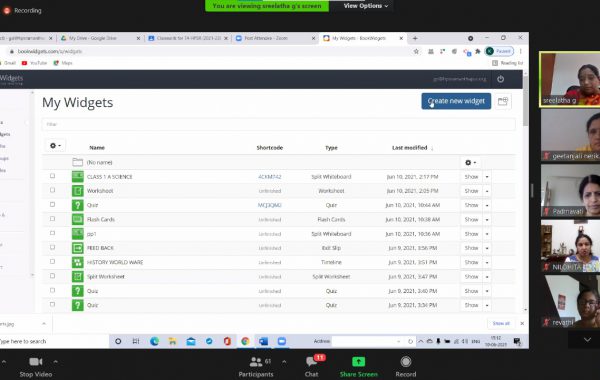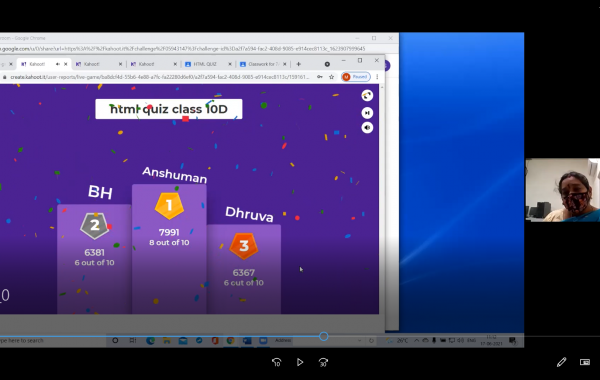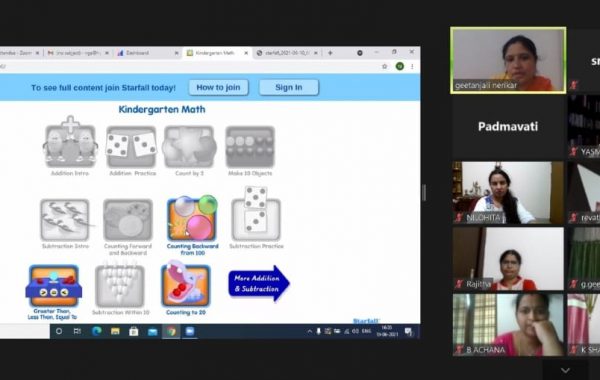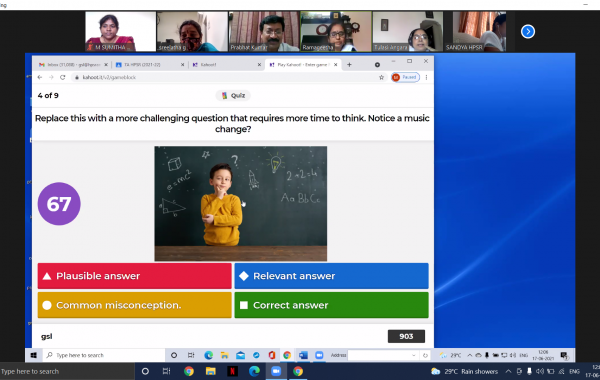 Creating the Perfect Potpourri of Career Guidance
On virtual platform a session on Career Guidance was conducted by our school Career Counsellor Ms Stuti Verma on 16 th June 2021. Career Guidance has become the talk of the town eversince CBSE emphasized on the necessity of giving career guidance to students in every school and institution. The session started with a poll conducted on the mentimeter app for the better understanding of the different aspects of career guidance
Career Guidance is a customized process which enables the students to pick the best career options based on their abilities. It was made clear from the session that career guidance should start early and it is not a short term process that gives instant results said Ms Stuti. The myths associated with career guidance were also explained and the most common myth was that career guidance is not for the intelligent students'. It was emphasized in the session that it is the duty of every teacher to transact the career information to the students by talking about jobs, giving real world examples and by relating the subject to the wider world of work. There was a presentation on the different careers and their prospects in Science, Mathematics and Humanities stream.
The importance of exposure to various activities like learning based activities, providing exposure, skill based activities and finally community service was very clearly explained by the facilitator. Decoding of extacurricular activities brings clarity of course and helps in the personality development of a student.
The session was quite interesting and useful which equipped the teachers with certain strategies to identify the abilities of the student in the formative years of their education and guide them accordingly to pursue the profession of their choice and interest .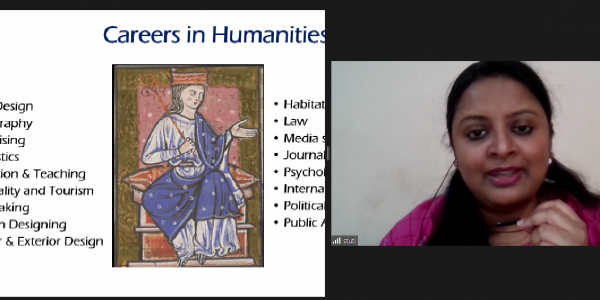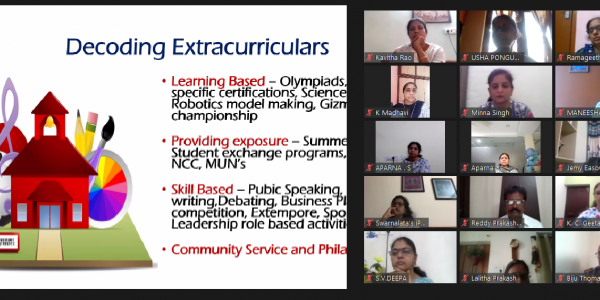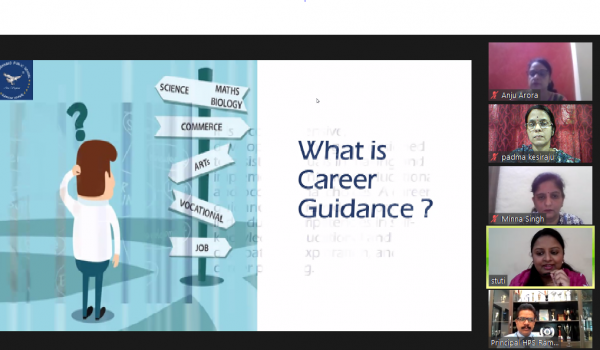 BREATHE -TODAY'S BUZZ WORD
An online workshop was conducted by Ms.Jemy Easow ,our school Counseller on 15th June2021 on the topic `BREATHE' .The agenda of the workshop emphasized on – The Importance of Breathing and Stress Management Plans. Improper breathing results in impaired focus, anxiety, poor judgement and poor decision making skills whereas proper breathing helps the brain to focus properly and to react faster said Ms. Jemy. It was also mentioned that Autonomous Nervous System plays a vital role in triggering as well as controlling the stress .
The Stress Management Plan was explained by the facilitator which included different signs of stress as to which part of the body is effected and how the mood and the behaviour swings, to identify the sources of stress, Managing Controllable Stress and let go of what you can't control.
Various Breathing technique, Grounding Technique, Pomodoro Technique and Let go of what we can't control were explained and demonstrated by the facilitator to manage stress. All these techniques help us to calm down, concentrate well, work efficiently , increase the productivity and the quality of our work. The session concluded with a small activity called Tree Branch Flower to understand the importance of visual and oral instructions and its impact on human brain. The session proved to be informative and a fruitful one.
[/vc_column_inner]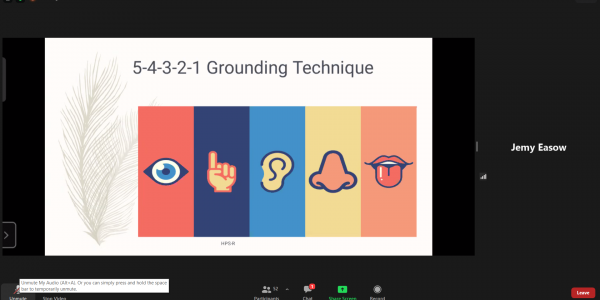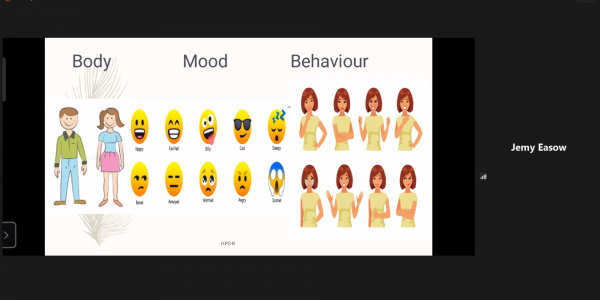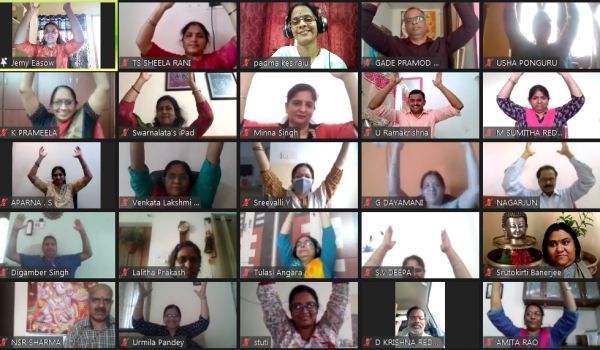 HPS Students' Memorable Interaction with Prime Minister Shri Narendra Modi
Leadership is not just about occupying the highest office but truly connecting with the people, especially the youth, who are the future of the nation. Honourable Prime Minister Shri Narendra Modi epitomizes this principle. Recently, ten fortunate students from The Hyderabad Public School (HPS) lived the dream of meeting and interacting with the leader during the launch of the 11th Vande Bharat Express, plying between Secunderabad and Tirupathi, on the 11th of April, 2023. . Narendra Modiji was accompanied by Smt.Tamilisai Soundarajan,Honorable Governor of Telangana, Sri. Ashwini Vaishnaw, Minister of Railways of India and Sri.G.Kishan Reddy, Minister of Tourism of India on the Vande Bharat Coach
The students earned this rare honour by showcasing their talents and perspectives in an essay and painting competition. Their earnest efforts bore fruit as they found themselves in the august company of the nation's leader.
The ambience within the cabin of Vande Bharat Express was thick with anticipation as each student eagerly awaited their turn to interact with the Prime Minister. However, the moment PM Modi entered, his genuine warmth melted away the initial nervousness. He engaged deeply with each student, appreciating their artworks, reading their essays, and even listening to the poem recited by Anagha of class 12 B and songs penned down by these young talents.
The Prime Minister's questions weren't mere formalities. He quizzed the students about their active contributions to the 'Atmanirbhar Bharath' mission by endorsing local products and the ways they've been promoting the 'Swachh Bharat' mission. Furthermore, he expressed interest in the students' routines, emphasizing the importance of sports and yoga in their daily lives.
This wasn't just another school trip or a mere formal interaction. For these students, it was an experience filled with inspiration and humility, an encounter that would stay with them as a cherished memory for a lifetime.
Beyond the thrill of meeting a national leader, it served as a reminder to the students of the vast potential within them and the possibilities that lay ahead.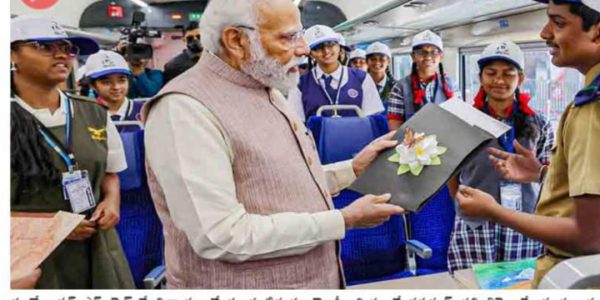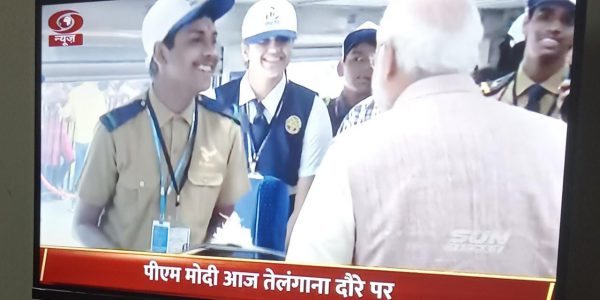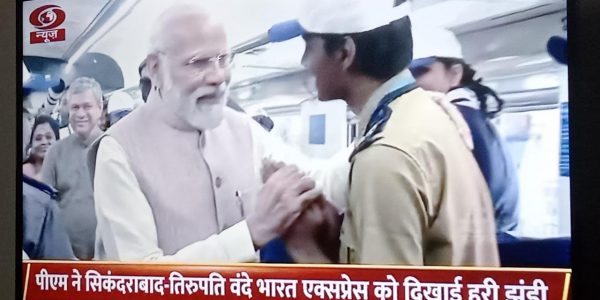 A Memorable Visit to the Secretariat for HPSR's Bright STEAM Stars
9th May 2023:marked an extraordinary day for participants of the 'Girls In STEAM' program as they were bestowed with a golden opportunity – a visit to the magnificent Secretariat building of the Telangana State government. This enlightening field trip was thoughtfully organized by the collaborative efforts of 'WE Hub' and 'What Is My Goal'.
With participation capped at 50 students from across Hyderabad and over 17 schools competing, the selection was undeniably competitive. Four students were the proud representatives from HPSR , they were Vaagmee, Maria Genesis, and Avanti from 10A with Aditi from 9A.
The Secretariat, described by the attendees as a "palatial edifice", dwarfed everyone with its imposing grandeur.  The students were treated to a comprehensive tour which included various departments and spacious conference halls. Noteworthy were the vast entrances and the resplendent fountains that captured everyone's admiration.
But the visit was not just a visual treat. It was also an insightful learning journey. The students engaged in an intriguing 'Under-18 elections' activity curated by WE Hub and 'What Is My Goal'. This activity was not just entertaining but was also a primer on the democratic process and its significance. Furthermore, the attendees had the privilege of interacting with and gleaning insights from young, dynamic entrepreneurs under the WE Hub banner.
As echoed by the participating students, the field trip wasn't just a day outside school; it was an immersive experience, brimming with experiential learning. The memories and lessons imbibed during this trip are sure to remain etched in their minds for a long time.
Top of Form